0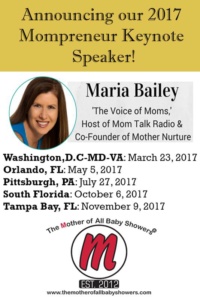 It's hard to believe that 15 years ago TODAY, my first baby was born. HB is fully into her teens and teaching more about being a parent and a better person than I could ever imagine. And not to mention, allowing me to hone my skills in patience, anger management and improving my sense of humor as I experience life through the eyes of a teen in the year 2017.  Boy, new parents are in for the most wonderful, crazy ride of their lives! Which leads me to share info about an event I was invited to attend last week for new and soon to be mothers as a local blogger. I think when I started sharing pics from the event I gave a few of my friends a scare! But, while it definitely wasn't my personal demographic – it was a good opportunity for me to see how this particular generation finds out about products, connects with others and enters into this exciting phase of life.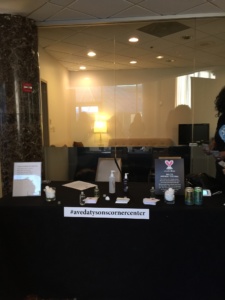 When I arrived to the MOABS Luxe and checked in, I was given an awesome VIP gift that included a Baby K'tan diaper bag filled with lots of stuff including a Baby Jack & Company lovey! I was then told to go and HAVE FUN! And boy did I! There is something really special about being around couples who are at the start of this magic. Their energy is contagious and they are so happy! I loved being around them…
My first stop was the AVEDA table (of course!), where I was treated to a nice, stress relieving shoulder massage using some amazing smelling Aveda oils. The staff at the table were the nicest and since I love Aveda products already, I did snag a limited edition candle Light The Way that smells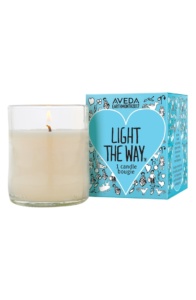 amazing! And for those that know about Aveda, know that they are definitely a cause based company that believes in giving back. The candle is 12 bucks and all the proceeds go to help bring clean drinking water to people in Madagascar. From their site: "This year's limited-edition aroma features certified organic vanilla, cinnamon and ylang ylang from Madagascar, where we've helped fund water systems for 10,000 people." So, I helped others and got a yummy shoulder massage within the first 15 minutes of my arrival, I would say that the event was off to a great start, so I moved on…
Next up, I was greeted with food, drinks and a CHOCOLATE FOUNTAIN! I mean – COME ON, Now! The drinks included one of my favorites – La Croix Sparkling Water. A table full of La Croix water – all flavors. I love sparking water so this was another win for me! Fully fed, chocolated up and hydrated, it was time to enter the big room. The room with the different vendors, displays and where the speakers were going to drop their knowledge.  I kept thinking about how things have advanced since I had HB and Nate Dogg. Technology has improved so many aspects of parenting gear. I felt oddly unprepared even though I have successfully raised two kids myself…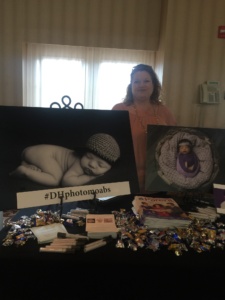 First stop in the main room was to visit Dorie Howell Photography. Her table displayed all of her amazing photos. I asked her a few questions about her photography, including her camera brand of choice (Canon!). She mentioned she has been photographing babies for quite some time and does do families and other portraits as well. Her photos were gorgeous and you can tell she connects with the people she photographs. She also mentions many times she doesn't require much post production work either – which is pretty impressive if you look at her photos.  And in a small world coincidence, I shared her pic out during the event over Instagram and a dear friend of mine left a comment that Dorie is a dear family friend of hers! You never know who you will meet and we all are 6 degrees of Kevin Bacon for sure!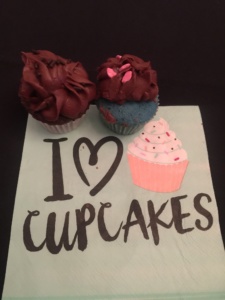 I walked around the event for a bit and then it was time to hear the keynote speaker Maria Bailey share her thoughts. She shared some really great ideas about blogging and becoming a Mom Influencer which is what she specializes in. I really enjoyed listening to her advice and will be sharing some of what I took away from her opening remarks soon in another blog post. As a fellow marketing, influencer and blogger – it's always interesting to hear how others make their way and the trends that I need to adapt to. After she spoke, I went and introduced myself and we chatted a bit about my experience and some of the challenges I have found working with brands and companies – one of which is to prove to them how important it is to reach out to influencers and use social media even if it doesn't bring in direct sales!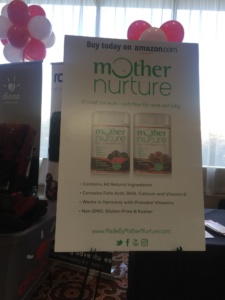 I made my way around to each of the tables – talking a bit to the vendors and sampling and inspecting their products. They had a great baker Randy Cakes who offered delicious cupcakes (I brought them home for my "baby" HB and she gave them a thumbs up) and Mother Nuture, who make refreshing flavored waters and delicious chocolate truffles containing some of the essential nutrients that moms and their babies need like folic acid, DHA, Protein, Vitamin D, Vitamin B12, and choline. The ingredients in each of their nutrient blends work in harmony with prenatal vitamins and are made with all natural ingredients, nothing artificial. Now, no one in my house is pregnant but I loved the water and my husband and kids loved the truffles!
The event went on for a few hours with different guest speakers talking about car seat safety, pre-schools, cribs, baby stuff and more. And there were really terrific raffles after each speaker (think Cribs, gift sets of Aveda products, High End Car Seats) I even ran into a former coworker of mine, Heidi, who blogs at Boys on a Budget! I haven't seen her in almost 20 years, so that was a huge bonus! It was a great night – stepping outside of my comfort zone, meeting new folks, re-connecting with others and finding out about some amazing products geared towards new Moms!