Posts tagged
bob harper
0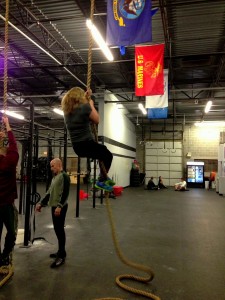 It was a super fun day at the gym — we worked on Rope Climbs for a part of it.  Rope climbs without the knot at the end that we all remember in grade school.  It's about foot placement — Rope climbs was one of the things that eluded me for a long time until one of my friends – Anna took me to task and helped me learn it.
I am going to master double unders this year — yesterday I was able to string 4-5 in a row during the workout which is progress for me — and I did a modified muscle up a few weeks back. For my CrossFit Goals — those are the two things I will make progress on. It's only going to happen with focus and practice.
So it's January and so many people out there set goals for themselves as a way to start the new year out on a the right path. Setting goals is the easy part — achieving them: well that's where its tough.
Set Short Term Goals to Signify Progress
But setting a long term goal and setting short term goals that can signify progress may be an easier way to look at the whole process.  So you want to lose weight — how about setting the goal that Sunday – Friday, you will focus on what you are eating, follow a plan that you researched, not have dessert –whatever it is.
That way you will see some progress, but you break it down into chunks that don't seem so daunting. It's a process I use with my son when I can tell he is getting overwhelmed at the task at hand and it's a good strategy to use for many other things.
Create Lists
Also, create lists (daily that turns into monthly). If you write down all the stuff you want to get done, it doesn't have to take up space in your head and cause you stress. You just go through the list and do each task. Whatever doesn't get done, goes to the next day or week or month.  It's very Covey like but effective. I also find that using mobile or a tablet doesn't quite cut it for me. I like putting paper to a pad. It seems to make the connection better for me.
I bought a weekly calendar post it note pad — so each week, day by day, I can list out what needs to be done.
Recommit Daily
You may be headed towards progress towards your goal and then realize "Shit –this isn't going the way I wanted it to."  You know what you do? Adjust your goals. They aren't set in stone –life is in flux. That doesn't mean that you should give up because it's hard — you have to think about why you created that goal in the first place. Do you really want to lose weight? It's gonna take work –and are you ready to put in the work?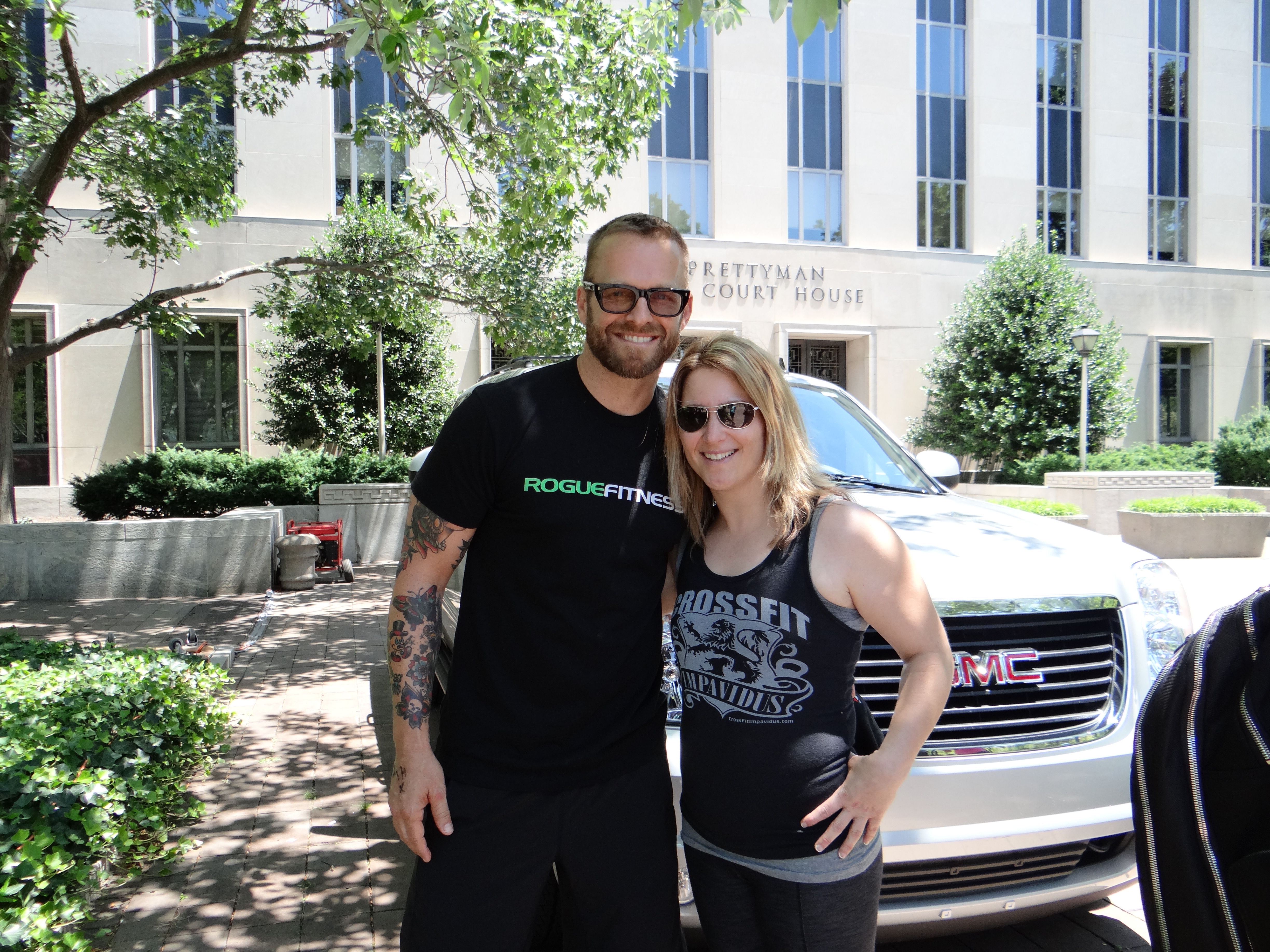 Last night, I watched the Biggest Loser Season Premiere. They had some CrossFit folks on it helping Bob Harper out with his custom gym area for his athletes.  What struck me was how harsh Jillian was on her team.  I get that she was trying to break them and so many of them are so stuck in their habits — Stuck In the fear loop –as Tony Blauer calls it. Sometimes you have to just push and pound on people to get them out of it — freedom is so buried deep inside of them and they have layers and layers of filters preventing them from escaping.
But the real question with those broken athletes is are they willing to put in the work? How bad do they want to change and get healthy? It is probably one of the hardest things they will ever have to do — and it's not the weight that is holding them back, it's their head.  They peel the layers of whatever is holding them back – the rest will seem easy.
They need to really commit and then recommit to what they say they want –and for some of them, the answer is they don't want it as bad as they say they do.  Or they aren't ready to escape the chains of fear. It is definitely interesting to watch how stuck they are – everyone that watches the show can see it –it's sometimes hard to understand how they can't. But life is funny like that.
With that said — I think she was too hard and not adjusting her style to match the athlete – which I think good coaches, good managers, good leaders get.
Here are some ideas for you to think about when you are thinking about making progress towards your goals:
warmup
skill 
wod
12×3 Back Box Squats 60% 1 RM
170#
3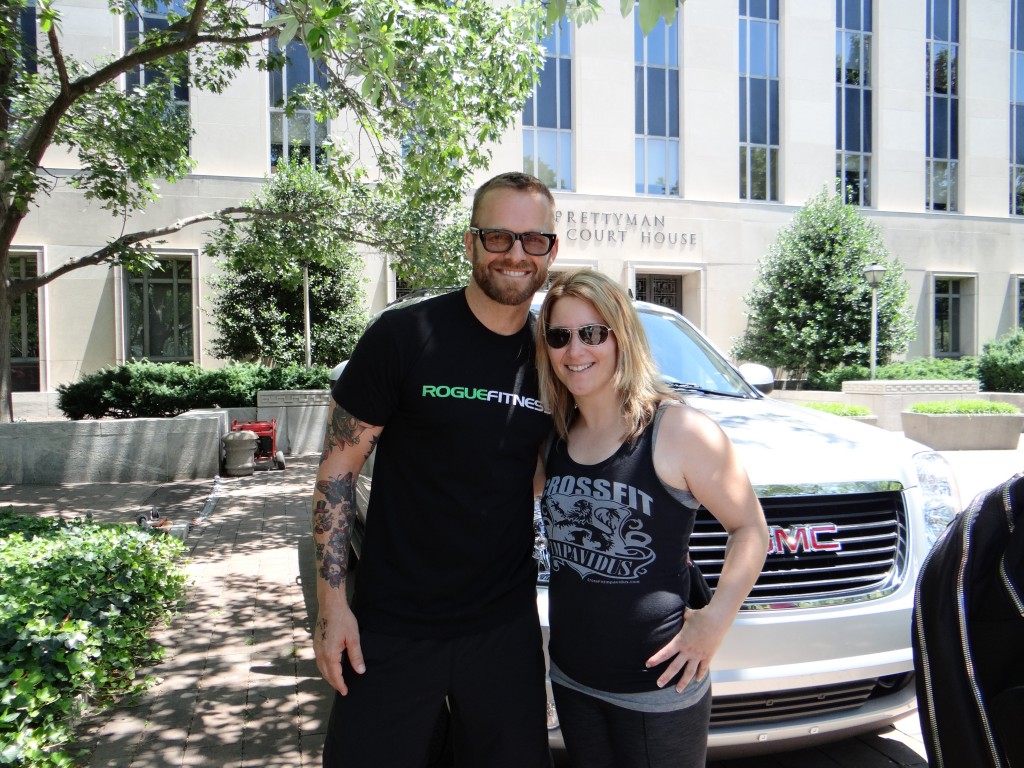 Its been such a great weekend – CrossFit for Hope was amazing. Our heat was at 2p along with the elite athletes – Christy Phillips, Ben Smith, Gretchen K. and my fave lady – Christmas Abbott. I love everything about her – her energy, spirit, and she kicks ass!!
Oh and did I mention that Bob Harper from Biggest Loser was there? I love that he has discovered CrossFit for himself. He was very kind and took the time to talk to anyone that came up to him. Oh and during my heat, I apparently did my pull ups right next to him and did not know. I was focused on getting my stuff done.
the workout was
Three rounds of: 
Burpees 
75 pound Power snatch 
Box jump, 24″ box 
75 pound Thruster 
Chest to bar Pull-ups
"Hope" has the same format as Fight Gone Bad. In this workout you move from each of five stations after a minute. This is a five-minute round from which a one-minute break is allowed before repeating. The clock does not reset or stop between exercises. On call of "rotate," the athlete/s must move to next station immediately for good score. One point is given for each rep.
I managed to squeak out 137 reps. I am happy with that even if it wasn't near a 'good' score. It was 90′, sun beating down and I did all but the pull ups RX'd. I did my best, asthma and all — You have to respect that. Elite athletes did upwards of 300 reps to give you an idea of the scale of scores. Christy Phillips coach Justin Ingram was kind enough to count my reps for me – and he was very kind. Pushed me enough but not overdone. Asthma is always lingering especially with my favorite burpee!
We hit up the happy hour afterwards but didn't stay long – Bob Harper, Greg Glassman and his crew all showed up as well. The famous Nicole Carroll from CrossFit was also there — all the CF dudes just lose it with she's around.  One of these days I will introduce myself to her. She did the WOD during the same heat as well.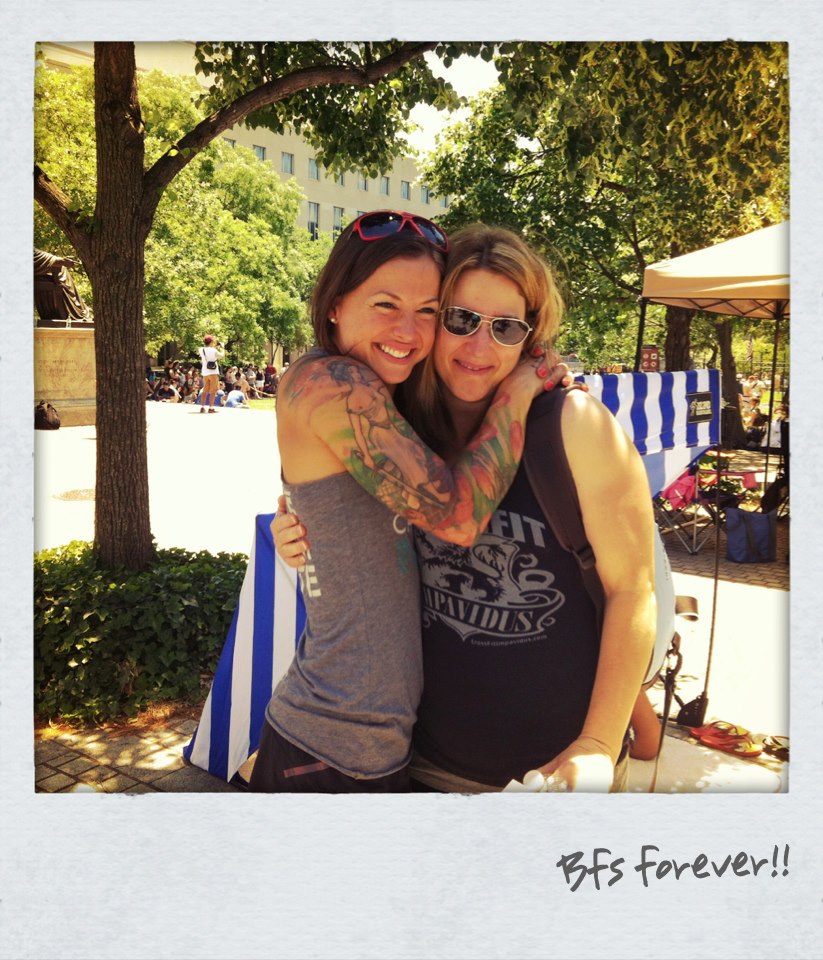 It was such a great event and great to be around people who get it like you get it. I am sure the rest of the people around us thought we were nuts – someday they will get it too!
Today, I coached a full class of CrossFit Impavidus athletes and then came home, did the usual errand, mommy, family stuff — laundry, Costco, cleaning — and then we all went to the pool. What else do you do when its 90+' outside?
1
My Recipes: Bob's Green Drink | Bob Harper from The Biggest Loser.
Hey everyone here is a recipe for my HEALTHY green drink, which can be used as a meal replacement! It is a BIG drink and could be considered 2 servings. Women who are watching their calories can cut the supplements in half, which drops the total calories down to 289.

MY Green Drink (398 calories)

Add all ingredients (listed below) to a blender and blend until combined.

Supplements (218 calories)

o 1 TBSP Ground Flax Seed (40 calories)

o 1 ½ TBSP Hemp Seed (80 calories)

o 1 TBSP Dulse Flakes (8 calories)

o 2 tsp Maca Powder (40 calories)

o 2 TBSP Pea Protein (50 calories)

Fruits & Veggies (180 calories)

*

o 1 Cup Fresh Kale (30 calories)

o 1 Cup Frozen Spinach (30 calories)

o 1/2 Cup Blueberries (35 calories)

o ½ Small Banana (40 calories)

o 1/2 Cup Frozen Pineapple (45 calories)

o 20 oz. H20