Posts tagged
brady
0
This weekend, I went to a holiday party at my friend Kyle's house. We were asked to bring art supplies and personal items (shampoo, soap, pajama pants – all sizes and other cozy items) for the girls of Chloe house.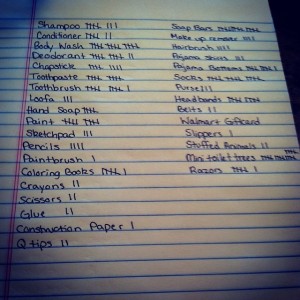 Chloe House is a group home for teenage girls referred by the DC Department of Youth Rehabilitation Services. It offers residential care, counseling, and life skills development activities including educational and employment opportunities. Chloe House was named for Tabara Chloe, a former participant of several Sasha Bruce Youthwork programs who established a life-long relationship with the organization. 
I love that we not only were able to have a lovely, fun evening but helped others while celebrating.
Workout
Strength Cleans
WOD
DB Clean Press
Burpee Box Jumps
Recommended Reading
Kindness Matters
Scotty sent me this link because it reminded him of our chemo experience. We went into each treatment (which was every two weeks), with a positive outlook and we laughed a whole heck of a lot. It is typical of how we approach most things in our life. It's worked so far…
This story made me cry. Ellen has done so much to promote kindness and I applaud her for her work. These boys are the cutest things – I love, love, love this whole story.
Have A Good Laugh