Posts tagged
burgener
0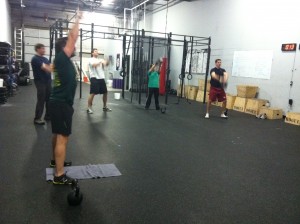 This morning we did some Olympic lifting (Oly Lifts) — and let me tell you, it's hard. Snatch Squats are tough — its all about technique! And it's frustrating —
warmup
Burgener Warmup
This warmup helps with muscle memory as you learn your Oly Lifts.
This warm-up consists of six different sequences that are important for learning to perform the Olympic lifts. The Burgener warm-up is performed with a length of PVC pipe or a dowel and specifically trains the second and third pulls of the snatch. Repetition of these six sequences with little or no weight conditions the body to move properly through the power phases of the snatch and the clean and jerk.
Skill
Snatch
WOD
Snatch
1-1-1-1-1-1-1
Special treat: Tabata Kettlebell swings
I have problems with my form so I didn't get as heavy as I wanted.
33/63/73/83/73/83/73 (failed at 83#)
92 kb swings (1 pood)
0
Where else but CrossFit can you use the word Snatch and not get in trouble? It's funny how many terms that are used in weightlifting that are traditionally seen as sexual or male-centric. I'm not even going to mention them here — we all know which ones I am talking about. What is it about male-dominated sports/fitness that dictates this? Don't even bother answering that — I already know.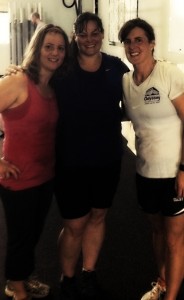 Today's workout was indeed the snatch.
Warmup
Burgener Warmup – which is basically progression into a muscle snatch
Skill
Snatch
Muscle Snatch
WOD
1-1-1-1-1-1-1
53-53-53-53-63-63-63#
2m Double Unders = 30
I spent a lot of time working on form with the snatch — getting under the bar because that's really where my form messes up. I can muscle up a lot of weight, until I get to a point where it's too heavy and it becomes clear that my form is off. So until I am comfortable with the actual technique, my weight won't be changing.
0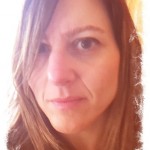 Good Morning Folks! Spring is so close I can feel it. Today it's supposed to be in the 70s here in Northern VA – I love this time of year around here. The signs of spring are all around and the cherry blossoms will soon be in bloom. It really is one of the best times to live in this area — Spring and Fall. The other 2 seasons, well I can take them or leave them.
Nicer temps also mean the workouts will be partly outside too – which I love. So this morning, sure enough we took advantage of the 50′ temps.
Outside Warmup
30m sprint
back pedal
heel to butt
shuffles
30m sprint
Skill
Burgener Warmup
WOD
Tabata!
4m stations (30s on, 10s rest) – Lowest rep count is your score
Pull Ups 2
30m Sprints 2
65lb Dead Lifts 10