Posts tagged
cancer
2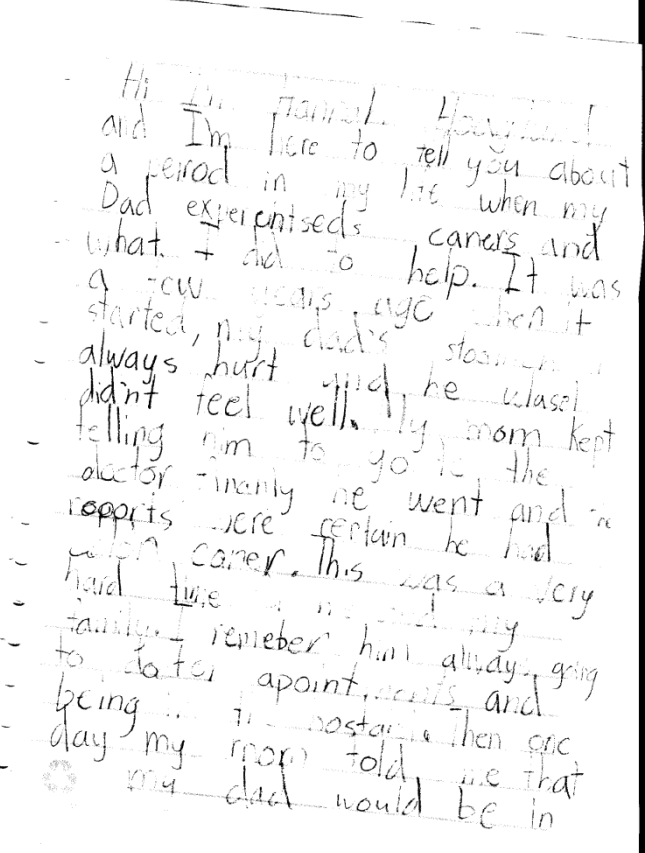 Hannah was asked to speak at a local American Cancer Society event this evening. She wrote her speech herself, with no help from us and while she was reading it — many of the people in the room were brought to tears. I was so proud of her and how poised she was and the story she told with her words…she's wise beyond her years. Here is what she said typed out and you can see it in the images — I scanned it…
Hi, I'm Hannah Hoaglund and I'm here to tell you about a period in my life when my Dad experienced cancer and what I did to help. It was a few years ago when it started. My Dad's stomach always hurt and he usually didn't feel well. My Mom kept telling him to go to the doctor. Finally he went and the reports were certain. He had colon cancer. This was a very hard time for me and my family. I remember him always going to doctor appointments and being in the hospital. Then one day, my mom told me that my dad would be in the hospital for a whole week. I remember screaming and crying for my dad. Later that week I went to visit him in the hospital and when I got there we helped him walk around. He was REALLY slow. I said "he could win a slow race". When he got home half of his colon had been taken out, but he was finally better.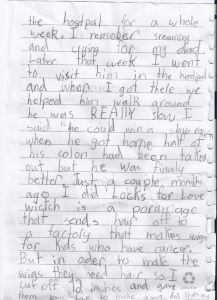 Just a couple of months ago I did Locks for Love, which is a program that sends hair off to a factory that makes wigs for kids who have cancer. But in order to make the wigs they need hair. I cut off 12inches and gave them my hair to make a wig.
And that's my story. Please take this time and donate what you can. It can make a real difference to people like me and my family.