Posts tagged
colon cancer
0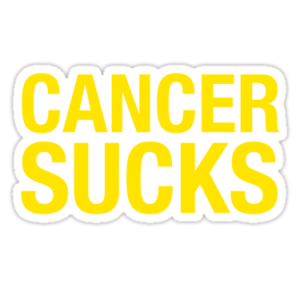 Why do I post info about cancer on this blog? Besides the obvious reason: my family's fight with colon cancer, I share it because if you aren't thinking about these things now and take care of yourself the best you can – health issues creep up. They may not be as serious as cancer or disease, but it could be simple mobility and not being able to move around. The ramifications of an unhealthy, unhappy life do appear — it's just a matter of when.  You have to be aware of what you could be in for —
During our cancer fight, we did have good insurance thank god, so it was manageable.  But I did see the bills –and there were times that monthly, Scott's treatment cost in excess of $25K! That is a MONTH!! We had over a year of cancer/chemo care! Can you even imagine and of course do whatever it takes to save the person you love — but what about afterwards if you don't have good insurance? You are left with a pile of bills and have to rebuild your 'new' life….
food for thought —
Cancer's Growing Burden: Rising Cost Of Care
— Patti Tyree was afraid that cancer would steal her future. Instead, the cost of treating it has.
She had hoped to buy a small farm with money inherited from her mother. But copayments for just one $18,000 round of breast chemotherapy and one shot of a nearly $15,000 blood-boosting drug cost her $2,000.
Bills for other treatments are still coming, and almost half of her $25,000 inheritance is gone.
"I supposedly have pretty good insurance," said Tyree, 57, a recently retired federal worker who lives near Roanoke, Va. "How can anybody afford this?"
Forty years after the National Cancer Act launched the "war on cancer," the battle is not just finding cures and better treatments but also being able to afford them.
New drugs often cost $100,000 or more a year. Patients are being put on them sooner in the course of their illness and for a longer time – sometimes for the rest of their lives. The latest trend is to use these drugs in combination, guided by genetic tests that allow more personalized treatment but also add to its expense.
It's not just drugs: Radiation treatment is becoming more high-tech, and each leap in technology has brought a quantum leap in expense. Proton therapy is one example – it costs twice as much as conventional radiation and is attracting prostate cancer patients despite a lack of evidence that it is any better.
The financial strain is showing: Some programs that help people pay their bills have seen a rise in requests, and medical bills are a leading cause of bankruptcies.