Posts tagged
day trip
0
Tomorrow is Washington's Birthday aka President's Day. In honor of the day, here is my favorite presidential quote and it's by Abraham Lincoln…
"And in the end, it's not the years in your life that count. It's the life in your years."



I try to remember that often — because its way too easy to get caught up in rushing through life that you don't stop to really enjoy it.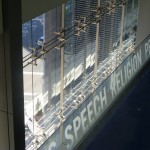 Another Fun Mommy/Daddy Family Day: Yesterday, we headed into DC to visit the Newseum. I had heard from some friends that it was a really great experience and they weren't lying. I had the best time and want to go back. We didn't arrive until almost 2p and the museum closes at 5p. The great thing is the tickets you buy are good for 2 days — so you can go back the following day if you can.
We bought the tickets via a Groupon sale — kids under 6 are Free though!
Hannah B loved it too. The only thing that I didn't really consider was how to handle her very inquisitive mind about all the highlighted news events. If you stop and think about it, they highlight a lot of bad historical events and crazy ass people — unabomber, gotti, mississippi burning, hearst kidnapping, 9/11 — and you have HB asking what those were all about — it makes for a 'i'm so scared' to go to bed experience for an 8 year old.  So keep that in mind —
We then of course in true Scott Hoaglund fashion, headed to the Hard Rock Cafe for dinner. It was crazy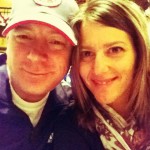 busy but Scott is a VIP there — so we got seated right away.  Oh the joys and benefits of a commercialism lovin' husband.
We really had a great day — started off with a great workout, headed to a great museum, ate dinner at HRC with no waiting, and everyone asleep by 9P.
Today – is rest day. My body hurts from that 'great' workout and the kids have lots of plans on their docket. Hannah will be at AC Moore in Ashburn this morning starting at 1130A to sell Girl Scout Cookies with her Girl Scout troop.  So if you are in the market for some delicious cookies to eat – in moderation of course – then stop by. They are pricey but the money does go for some important programs helping young girls around the country.