Posts tagged
deadhang
0
I volunteered on Saturday for the CrossFit Mid-Atlantic Regionals in Landover, Maryland for the morning and then spent a few hours helping my friends at Power Supply sell their tasty food to spectators. It was great to see friends I don't get to see often — and see the peak CrossFit athletes in action. Watching them inspires me but it also makes me think — wow, I am so out of shape. The people that compete and watch these events tend to be in the small % of people who are in amazing shape –and who take their fitness seriously.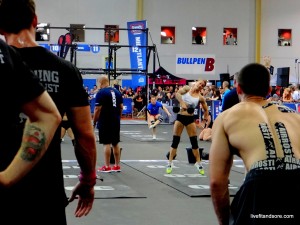 I stopped and talk to one of my favorite athletes Christmas Abbott –but decided to not ask her for another pic. After talking to Rich Froning last summer about celebrity and how it's so odd how people treat you — Christmas is a CrossFit friend of mine and it just didn't feel right. I did take some pics of her in action though — more can be seen in my facebook gallery: CrossFit Mid-Atlantic Regionals Photos
Sunday, I went into HighBar CrossFit to get a workout in. I just didn't feel like I could skip it and ended up having a great workout!
2 Rounds Total
2rounds
10 burpee pullups
9 Kettlebell Swings
8 Wall Ball Shots
—
end of 2 rounds do 400m row
time: 27:00 Minutes
So I ended up doing all but two of the pull ups deadhang –no help from bands. It took me quite some time but I did them!! One by One and I was so happy when I was done. That was the most pull ups I have done in one shot with no kipping and no band help. That made my day!!! I am sure I will be feeling it later today but it was worth it.
I love when I do something that I just never imagined doing before. What a great way to start a week!
warmup
200m jog
10 squats
10 push ups
4 Sampson Stretch
4 Instep Lunges
10 squats
strength
Back squat
160# 5×5
(did warmup sets to work up to 160#)
wod
12 minutes AMRAP
8 dumbbell lunges
2 manmakers
20#
9+ rounds
0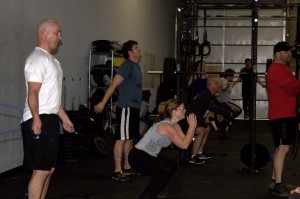 There is alot of discussion in the CF community around pull ups- continually allowing kipping pull ups instead of forcing athletes to do dead hang pull ups does the athlete a dis-service because they aren't getting stronger, just more efficient. If you can do 100 kipping pull ups but not 1 dead hang pull up are you really better off? I see their point — in the end strength training has a bigger pay off so you want to go with it. I do believe each technique has it's place — there are times when you want to be more efficient but you should when you can focus on getting stronger. It benefits all aspects of your training.
So today's workout only allowed dead hang pull ups – even if that means you use a band to help offset the weight. I did one dead hang – then switched to the band and proceeded to smack my privates with as I lost my footing and it snapped in between my legs. I am glad everyone got a good laugh this morning as I squealed in pain.
warmup
doms
x2–
40 single jump ropes
10 push ups
10 situps
10 wall ball shot
10 kte
10 med ball good mornings
Skill
Thruster
WOD
1-2-3-4-5-5-4-3-2-1 reps of:
Thruster 65lbs
Dead Hang Pull Up
Time – 8.54
We focused on good form over speed —  which is good because i am sore!