Posts tagged
events
0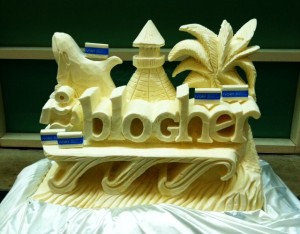 Traveling while you are sick sucks. I started getting sick on Tuesday, was not much better on Weds, and by Thursday – getting on a plane was the last thing I wanted to do. But I did .. and got in to San Diego early afternoon and hung out for a bit and realized that I felt worse. I was in bed by late afternoon and did not get up until the next morning to head to Blogher 2011.
I'm back now — with no voice and hacking up a lung from the remnants of whatever bug this is but it was a great trip, a great event and I met some of the most inspiring women. I am working on a recap post of my experience and will share some things I learned, some people I met, and some thoughts I formed while attending.
I was able to meet up with a fellow CrossFitter @Gympressions from New York City via Twitter– Check out her blog! We met around the Marina area and went for a run, then ran a ton of stairs and ended our workout with situps. It was fun to meet someone who loves CrossFit as much as I do and once again, I find that fellow CF athletes are super nice.
Back to life though -and I got up and headed for my normal Monday workout at CrossFit Impavidus.
Warmup
25 DUs
10 Hollow Rocks
10 Air Squats
10 Push Ups
3 5s L-Sits
Skill
Ring Dips
WOD
800m run
7 rounds
10lb Wall Ball
10 Ring Dips
800m run
time: 19:06
Remember, I was hacking up a lung while I was running so my time was not my best but after a few days off my routine, I think its respectable.
0
Today was a beautiful spring like day in Northern Virginia! Man — I can taste spring and can't wait. It is my rest day and I am forcing myself to take it easy –I keep hearing about over training and burn out. I love it so much and am so excited to try new things and practice the new stuff I have learned that it's hard for me to keep away.
This is the time of the year when info about local races is starting to hit. It seems to me this year that there are more than ever — or maybe I am just on too many email lists. Here are a few to note in the local No VA/DC area:
Brambleton  5k/10k April 9, 2011
http://www.brambletonribbonrun.com/
AOL Sunday, May 15, 2011 @ 8:30 AM.
http://www.active.com/running/dulles-va/aol-2nd-annual-spring-into-summer-5k-and-fun-run-2011

Ashburn Village 10K, 5K and 1 Mile Fun Run. Sunday, May 22, 2011
http://www.active.com/running/ashburn-va/ashburn-village-10k-5k-and-1-mile-fun-run-2011
North Face Endurance Challenge  June 4-5, 2011
http://www2.thenorthface.com/endurancechallenge/races/2011/dc/index.html
Spartan Race June 18 2011
http://www.spartanrace.com/
RARE CrossFit 5 Mile Trail Run (RCX5TR) II
Website
Sunday, July 17, 2011 9:00 AM
Virginia Outdoor Center
Fredericksburg, VA
0
Looking for some fun ideas in the Northern VA area this weekend? Here are some — AOL has a great employee parent's group and they send out this weekly newsletter full of information and ideas and events. Here's a few events I noticed this upcoming weekend:
SAT 8/28 Greenberg's Train & Toy Show Greenberg's Train & Toy Show features almost 500 tables of train dealers, presentations, and a variety of operating model railroad and toy layouts – including trains kids can operate and trains they can ride. http://www.greenbergshows.com
SAT 8/28 Family Fest Inova Loudoun Hospital sponsors the annual event, featuring interactive activities and entertainment focusing on family health and safety, nutrition, education, community awareness, and family fun. http://www.familyfestva.com/activities.html
SAT 8/28 Lucketts Fair Lucketts Fair features handmade crafts and historic demonstrations. Bluegrass bands play in an outdoor gazebo. Two other stages offer live entertainment. Children's entertainment includes music, shows, a petting zoo, pony rides, face painting, and hands-on farm and nature exhibits. And don't miss the hand-churned ice cream… http://www.theluckettsfair.com