Posts tagged
everett
1
I loved the workout programmed today. It was all about endurance!  I love when a workout really challenges me mentally. It had broad jumps, hang squat cleans and slam balls and the combo left me breathless – so I really have to focus on steadying my breath and continue on. Again, it's one of the things I love about CrossFit. I get challenged every single day I walk in. How many of us are just going through the motions day in and day out and if they stopped and really thought about it — they would realize they thrive on being challenged and learning new things. We are so caught up in the day to day. I force myself out of my comfort zone daily and you should too!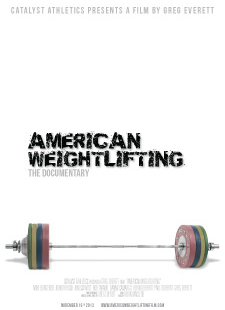 This past weekend, I watched a really interesting documentary called American Weightlifting.
American Weightlifting introduces us to the people, the passion, the dedication and the reality of the sport of Olympic Weightlifting in the US.
The sport is extremely popular internationally, with many countries supporting their professional lifters during their training. In the US, it has not received nearly enough attention compared to the more popular US sports of Football and Basketball. Most talented Olympic lifters and coaches must train on their own and pay their own way to success, giving the international lifting community a distinct advantage during competitions.
The benefits of adding in Strength work and Olympic lifting – including the clean and jerk and snatch – have proven time and time again to benefit athletes of all sports.  The sport loses out on many possible stand-out lifters, because many times younger athletes who are developing, opt for the more popular sports because they are able to obtain scholarships and receive more recognition.
Throughout the documentary, you are introduced to some of the pioneers of the sport and within the first few minutes of meeting them, their passion shines through. They love their sport. Weightlifting is not about making money to them – it's about really doing something they love. They have seen it change people's lives, including their own. Each athlete and/or coach we meet along the way is changing someone's life.
Created by Coach Greg Everett, owner of Catalyst Athletics, publisher of the Performance Menu Journal and coach of the Catalyst Athletics weightlifting team in California and a very well respected Olympic Lifting coach. He made this documentary on his own – a one man show.- and after watching it, you can feel how much he loves the sport.
As a CrossFitter who has been introduced to Oly lifting and as someone who wants to learn more about the sport – I loved it. The people highlighted are the coaches I have heard of and have always looked to for inspiration and instruction. But more than that – I love hearing from people who love what they do and have found something that they are so passionate about – they put all their effort and drive into making it into something that changes lives. Many people out there won't understand it – but it's goes much deeper than just lifting heavy shit. It's about understanding how your body moves, it's about discipline, it's about mental grit, it's about sheer will.  To choose a sport that very few people understand or even care about — and pursue it despite all of that, means you really have found your thing. And I am always fascinated by people who are doing what they are meant to do, what they are born to do, who have found their purpose. So few of us really do.
Before CrossFit, I did not know anything about weightlifting. But having been at it for 5+ years now, weightlifting is probably one of the greatest, most challenging things I have done. When you hit a lift right – it's exhilarating and it feels like the stars align. And it makes it that much harder to accept when your lifts aren't happening.
CrossFit has brought a tremendous amount attention to this sport — but keep in mind that attending a weekend Oly Lifting Trainer's course does not a good coach make.
I know, I am rambling but it really is a life changing experience when you start lifting – for a woman, it's a badass feeling that stays with you and carries into so many other facets of your life.
That's my review of this documentary – for more information about this documentary, here are some links from people in the sport of weightlifting:
The folks at Catalyst Athletics provided me with pre-screening access, but the actual documentary is available NOVEMBER 16TH! If you have the slightest interest in weightlifting, I highly recommend checking it out.