Posts tagged
food
7
A few weeks ago, I was contacted by Safeway to do a review of their new Safeway.com/Simplenutrition healthy options label system they were rolling out in their stores.  In their words: Safeway understands that shoppers want to make better nutrition for themselves and their families. But they also understand reading nutrition labels and wading through all the different sources of nutrition information can be time consuming and confusing. Fortunately, SimpleNutrition is here to help! SimpleNutrition is a new 'at the shelf' program that simplifies and personalizes grocery shopping so you feel confident about making informed food choices.
They offered me a gift card as a thank you for taking the time to visit their store and give my honest thoughts about it. Other than knowing there was a new label system they were using, I didn't find out any more information, thinking it would be a better experience to go in 'blindly' and see if I could figure it out. Also, I am not familiar with this particular Safeway either, so it was a double blind experience. Here are my thoughts —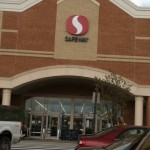 Here's the Safeway in Ashburn, VA that I visited on a Friday late afternoon.  I walked into the store and headed to the produce area –which coincidentally, seems to be in the front of every grocery store if you haven't noticed before. Anyone know why? Hmmm…
As I was going through the produce area, I didn't notice anything out of the ordinary in terms of labels of the food.  Looked completely regular to me — so I headed on down a few aisles, again, nothing stuck out. I was beginning to think that maybe this particular Safeway was not using the new label system. So as I pushed the cart down a few more aisles and went to the frozen food section.
Now that my son, Nate is eating gluten free foods, I have had to become familiar with frozen breakfast items that he can eat and figured, maybe I will see these new healthy option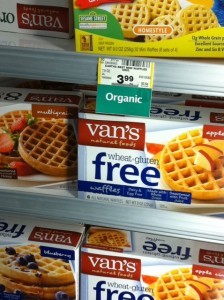 labels there.  What I saw was a clearly marked 'Organic' label which I thought was great, but hardly a stand out. (See picture to the right)
I continued on through the aisle and came upon them – FINALLY! They look like little tabs hanging off the edge & right below the food item. They color-coded them along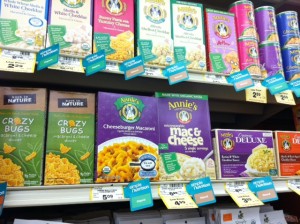 with its related word.  I saw Organic, Gluten Free, Low Sodium, All Natural & More! Once I got the hang of it and noticed them – I realized how much help they really were.  It helped me quickly identify the gluten-free items instead of having to look through and carefully make sure that the product I am getting is indeed what I think it is.
What I have been finding is that many brands have a healthy, organic version AND a healthy, organic but Gluten free option and other than a small little label on it – that says it's Gluten Free, it's hard to tell. This really did make it easy!
As I said, once I noticed them – that's how I finished my shopping trip. Looking for these little tabs all over the store. They were up and down the rice & pasta aisle and I was able to find them in the frozen food area. I was able to scan this wall of mac & cheese options and find the ones that are gluten free quickly and easily.  That made me very very very happy!
The way this Safeway is laid out – the healthier options are integrated with all of the food — so I can see how these labels would really help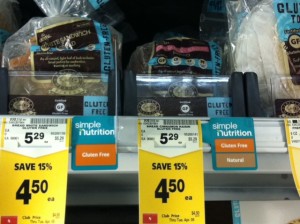 shoppers quickly identify healthier options. Even the lower sodium spaghetti sauce had a healthy options label to help you find it easier.
So what are my overall thoughts about Safeway Simple Nutrition Shelf Tags?  Anything that helps people make better nutrition choices for themselves and their families is a step in the right direction in my book! I really liked how these tags stood out and were very readable.  So, for those shoppers already looking for healthier options — this makes it easy. One wish?  I wish it had the magic power to convince people to make a conscience choice to buy them…..
Please know that although Safeway did provide me with gift cards to thank me for my time, the opinions shared above are my own & were in no way influenced by them. They did not encourage me to write any particular review of my experience.