Posts tagged
fungoplay
0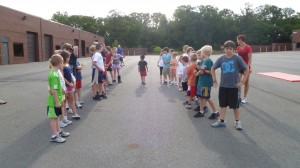 N.J. fathers create toys that combine old-fashioned play, online excitement
Love this idea. Combining real outside exercise with what many kids love – unlocking game benefits.
Now a trio of New Jersey fathers has developed an online interactive game with a real-world component in which leaving the tangible toy behind is not an option.

It's only by going outside and kicking a ball around that kids can advance through this new online destination.

Called FunGoPlay, the sports-themed website provides kids with actual toys — soccer balls and Frisbee-like flying discs — after they subscribe online. Both the site and the toys are designed to make sure the sports equipment is taken outside and put to use.

As children horse around with the equipment, sensors in the toys track how many minutes are spent playing and how many times the soccer balls are kicked. After about seven minutes of play, the equipment generates a code. That code unlocks a cache of points and rewards online, which kids can use to enhance their virtual athletic abilities.