Posts tagged
games
0
As a family who is just recovering from all the things that go along with colon cancer — I never forget to take the time to remind people to get a colonoscopy. If you are over 50, make sure you do but if you have any family history — then go earlier. And if you are young and are having symptoms — push your doctor to refer you for one.  It really is one cancer that caught early, is CURABLE.
Colonoscopy is the only screening test I know of that can prevent cancer. It is fairly simple, does not need to be done often and if everyone over the age of 50 had screening, it has been estimated that between 60-90% of deaths from colon cancer could be prevented (that's potentially 30,000-45,000 lives saved) .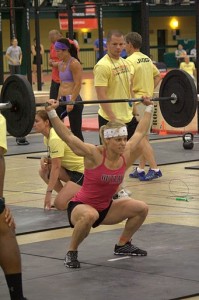 Here's another image from the games last weekend – Becky Conzelman doing an overhead squat.
Becky ended up coming in first at the Regionals and after watching her, you can see why. And I love that she was one of the few in their late 30s. Experience, strength and hard work pay off!
1
Man, I'm sore. It was almost enough to keep me in bed this morning and skip my workout — but nope, I got up and headed to CrossFit Impavidus. It was a tough workout. So many times, I will look at what the WOD is when I first walk in to the box, and say —'oh, that seems doable'. You think I would learn my lesson by now — but those are the ones you have to watch out for. Yeah it was a rough one —
Warmupx2
20 DUs/60 SUs
10 Good Mornings
10 Sit Ups
10 Pass Thrus
10 Air Squats
Skill
Dead Lift
WOD
15m AMRAP
9 Deadlifts 100lbs
12 Push-ups
15 Box jumps
Total Rounds = 8

http://games.crossfit.com/compete/workouts/deadlift-push-box-jump
0
I am going to try an evening class tonite.  Scott had to leave for work at 5A, so that meant I had to skip my morning workout. It's ok though, because it gives me an excuse to go to an evening class with a different trainer. Each of the trainers at CrossFit Impavidus has different strengths — and I like mixing it up sometimes to get a different perspective on my training. Change is good!
When was the last time you tried something new or out of your comfort zone? I was thinking about how excited I am that I finally conquered the cartwheel — and how cool it is that me, at 40 years old, worked at it and got it! Most adults go through their lives rarely challenging themselves physically and some may say mentally as well.
That is completely what I love about CrossFit – it really is like being a kid again and playing outside — running around, lifting things (weights instead of rocks), jumping, pushing tires, jumping rope and handstands — all things that we did as kids when we were hanging outside until the wee hours of the evening with your pals until your Mom would tell you to come inside. You would think — awww, man — 10 more mins? That's how I feel on most days leaving CrossFit. I have a ton of fun playing and hanging out with my pals — until the clock says time's up!
On the mental front — my brother introduced me to Luminosity, a site to improve memory and attention  by playing games that help train your brain to boost overall mental power and performance.  One of the things I read about is how you have to keep your brain sharp — it helps with aging. So – try it out and see if it helps you think faster on your feet!