Posts tagged
health
0
I love sharing information about working out and giving back. This weekend, in gyms across the country you can participate in: The 5th Annual 2015 Crush Cancer event to benefit Stand Up to Cancer! 

The 5th Annual 2015 Crush Cancer event to benefit Stand Up To Cancer's collaborative cancer research. This year, Crush Cancer will host one main event that will be held in Culver City, California, on Saturday, October 10. In addition, gyms from across the country and around the world will be hosting their own events—all with the goal of raising as much money as possible for Stand Up To Cancer.
THE GOAL: Raise awareness and fund accelerated cancer research while providing a motivating and challenging workout experience.
While this is not a CrossFit sanctioned event, it resembles a CrossFit WOD type of workout.
The Workout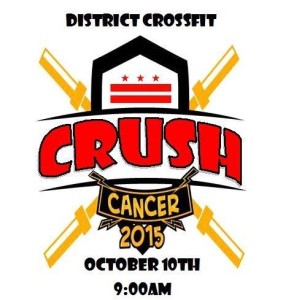 3 Rounds/1 Minute Each (Levels: Advanced, intermediate, Novice)
Power Cleans (95/65)
Kettlebell Swings
Burpees
Double Unders
Shoulder to Overhead (95/65)
Tally your reps each round and your score is the cumulative number of reps at the end of 3 rounds.
In the DC area, DC CrossFit is hosting an event, but if you can't find a local gym, hit up your local fitness spot and get it done and donate some money for this important cause. 
CRUSH CANCER EVENT DETAILS:
Timing/Locations
o Washington DC
o Saturday, October 10th 2015
o Location: 1525 Half Street SW, Washington DC 20001
o 9:00 am- 12:00 pm