Posts tagged
hspu
0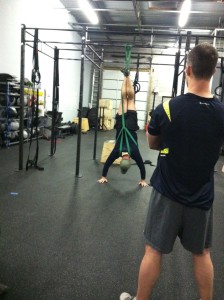 It's crazy what a difference 1 year can make. When is the last time you stopped and thought about where you are compared to last year? Is that the sort of thing you do on New Years Eve? I was thinking about today's workout and what progress I have made. We did some work on Hand Stand Push ups. Last year this time, I couldn't do a handstand — no idea how, never worked on it, every time it was included in a part of my old trainer's workout — he didn't give us any instruction on how to actually 'learn' it.  When I switched to CrossFit full time — they worked on it with me and then one of my pals, Coach Marc just told me — commit to doing it. That was the key — and I worked on it over and over again. Any time I had extra time after a workout, I did handstands. I am almost at the point of full balancing off the wall — but I can certainly do a handstand – look at me now.
This pic is Coach Conan showing us a modification of a Hand Stand Push Up — that thing looks dangerous but can help you work on the actual push up part of the exercise. I gave it a try — and it certainly takes some getting used to.
Warmup
800m run
–x2
10 Pass Thrus
10 OHS
10 Hand Release Push Ups
10 Super Man/Hollow Rocks
Skill
HSPU
WOD
15 AMRAP
15 Box Jumps
10 Sit ups
5 HSPU
rounds: 9+1
Box jumps get me – plain and simple. Takes the wind out of my sails, causes me to hack up a lung but I stick with it — there is no quitting! Only carrying on, making it work — getting it done!
0
"Be miserable. Or motivate yourself. Whatever has to be done, it's always your choice." -Wayne Dyer
It's hot and steamy in Northern VA today – like you just stepped into a sauna. Not really the kind of weather that makes you want to just jump out of bed I know. You know if you don't get it in now, you are less likely to do it later on, so you go.
Warmupx2
10 Pass thrus
10 OHS
10 Sit ups
5 Ring Push Ups
Skill
Handstand progression
WOD
800m run
30 HSPU
800m run
time: 12:42
Yeah, hand stand push ups are tough — I use one ab mat under my head, but if you were to just get started doing them on the wall — using up to 3 ab mats to begin developing the technique/strength is the way to go.
0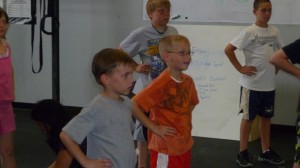 Yesterday, I received an email from someone who had read my most recent blog post in the Ashburn Patch about getting kids into fitness. I fully believe there is no reason that is good enough to not be on top of this issue as parents. It's part of our job to not only lead by example, but also find ways to get  your kids' moving.  And as I have said — — it doesn't have to be a concerted effort like an organized sport but sitting around all the time can not be an option. We are the ones in charge — turn off the tv, go for a walk with them, do some water sport — just get them in the habit of moving!  You are doing them a huge favor, even if they don't recognize it now.  I am very serious about this issue too — after spending the weekend meeting teens at YouthFest in Ashburn — it became even more clear that this is a serious issue among the young kids today. After all the work I have done to set the example, I have little patience for parents that make excuses. There are very few excuses that would explain and ok the lack of attention and effort that many parents show towards this issue.
We met a new lady today at CrossFit Impavidus — Diane. She was tough and I didn't do the prescribed weight (Rx'd) —
Warmup
20 Double Unders
10 Push Ups
10 Good Mornings
10 Squats
10 Pass thrus
10 Lunges (each side)
Skill
band stretch
HSPU (hand stand push ups)
WOD
Diane
21-15-9
Deadlift (225/155)
HSPU
time: 7:38 (?)
extra challenge
hold a handstand against the wall for 1m. Yes – I did it.