Posts tagged
humidity
0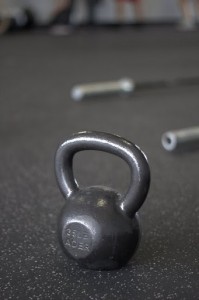 I was driving home this morning and listening to the radio. A McDonald's commercial came on talking about updates to the Happy Meal. The Happy Meal will now include fries AND apple slices for a 'well balanced meal'. Isn't that fabulous!!  Now come on — if you are going to sell it, don't add in the crap about well balanced meal. You and I know fries don't make it balanced at all.  The things marketers will try — words in fancy combinations don't make it any more or less true.
Last night, while watching Tv before bed – I took my Lacrosse Ball and rolled out my back and shoulders. The past week, I have had stiffness and general soreness all around them. As much as it hurt, it felt great and afterwards I could totally feel the difference. I am telling you — GET a LACROSSE ball today!!
I woke up to heavy fog and humidity, which for an asthmatic = hard to breathe weather and of course we had to run!!
Warmup
25 Double Unders/150 Singles
10 OHS
10 Whirly Birds
10 HSS
10 Cobras
10 Front, Back, Around (With your arms)
Skill
good mornings
gymnastics (kick to handstands, handstand leans to help you get used to shifting your weight for handstand walks)
WOD
5 rounds for time of:
400 m Run
25 Good Mornings
25 Sit-up (abmat)s
23:06
Not my best showing. I had issues with breathing this morning and the thick foggy air and Good Mornings seemed like torture. The prescribed (RX) weight is your body weight and I did 65lbs. I sure as heck didn't think I could handle my body weight, doing 25 reps of good mornings. To compare, I did 50 Good Mornings at 45lbs during Saturday's workout. I couldnt walk normally for days –my hamstrings were Yelling!! I can imagine what the next day or so will bring after today's torture.
CrossFit Impavidus is closed on Saturday for a special charity event they are doing — so I am thinking of taking it easy tomorrow and Saturday. I can tell my body is tired and may be trying to tell me to take it easy. This is a good opportunity to do that — take a long weekend and do some general stretching, mobility and get outside but not do actual high intensity movements. Rest can be just as important as exercise at times — this may be one of those times.