Posts tagged
impavidus
0
Great workout at Crossfit Impavidus this morning. Going to a new box is like getting used to a new boyfriend. They don't know much about you yet, they think they like you, you have stuff in common but it's still not super comfortable. I am sure it will be pretty soon.  It's a good group working out and Coach Nick is awesome.   It will take some time for me to feel completely at home but I can tell I will.  Also, I get an extra 15m of sleep because the class starts 15m later, and it's much closer — so no 15m drive for me! I may even get an extra 25m sleep once I get used to this new routine. More sleep is a win in my book!
When I got there and saw the actual WOD was 12m, the first thought was that's it!!?, but after doing it — it kicks your butt. I burned more calories doing that workout in 12m than I did in my old camp, although I did do heavier weights in the latter. Crossfit's philosophy is keep moving and when I used to do heavier weights, I had to stop often because it was simply too heavy. Lowering the weights allows me to keep moving, which allows me to burn more calories.
Warmup
20 jump jacks
burgener warm up
10 push ups
PVC Pass Thrus
Skill
Snatch
WOD
AMRAP
50ft Walking Lunges w/25lb Plate
Snatch 45lb
7 Rounds completed
I also practiced Double Unders again and got a few before my jump rope broke in two. How powerful am I? Ha!

1
Yesterday was a crazy busy day — Scotty and I headed out to finish our last minute holiday shopping and then we spent a few hours wrapping the gifts. This is pretty good for us as we usually wait until the night before so we are already ahead of last year's schedule.
Then I headed out to another practice WOD from Crossfit Impavidus*. Now if you are keeping count – Weds eve I did a WOD, Thurs AM I did boot camp and Thurs eve I did another Crossfit Impavidus WOD and this one was a doozy!
WUp
3 rounds
sampson stretch
60 jump ropes
butterfly situps
PVC Shoulder stretch
OH squat
Skill Work
KB Swings 18lbs
WOD
6 RFT (rounds for time)
bear crawl
25 push ups
50ft broad jump
20 35lb KB swings
I have a feeling I am forgetting an exercise but we had to yell round after each round bc after the 1st one – you seriously are so delirious you can't count. After my run outside yesterday morning — my lungs were hating this workout and I was still coughing and catching my breath for an hour post workout.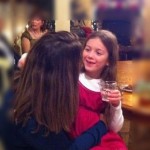 Then I rushed home – got dressed to head out to a friend's holiday party. I am glad I went because I ran into some old friends and met some new ones! Kids were invited and that was definitely a plus! Both my kids made some new friends and when it was time to go – they both weren't ready. That's a sign of a successful party for us! I had not eaten dinner either so while there I stocked up on turkey, sausage and veggies and salad they had out. I was starving after that workout — and had 2nd helpings of protein and ended with a gourmet german chocolate cupcake! Yum!
We got home late — got to bed late — and yes, I still planned on getting up for boot camp at 5A.
*Crossfit Impavidus has contracted me to do some social marketing on their behalf — Although I have always been a fan of HIIT and Crossfit so my opinions are my own!
0
Last nite I headed over to a crossfit gym that is opening in Ashburn for a test WOD. I am really excited to see that Crossfit Impavidus* has finally come to Loudoun County. For those of you that don't know what crossfit is here is a good video that gives you an idea:
One of the great things about Xfit besides the workouts is that the people who run the gyms and the entire culture has a sense of humor — you work hard, you play hard, you live hard — and you have a great time doing it! The owners and coaches of Crossfit Impavidus are a great group — day jobs, varied backgrounds — all certified in Crossfit training. Their future plans include Crossfit Kids which is Awesome! Teaching kids functional training and conditioning is so important and there will be something else out there for those kids not necessarily into team sports but still athletic as well as those kids that want extra training to improve their performance for their team sport.
It was a group of 8 of us. We started out with a Warmup that included jumping jacks and suicide relays –2 groups of 4  the  team that came in last had to do 10 burpees — the winning team 5. We came in DFL (dead last) – so 10 burpees or us! Whee!
To prepare us for the WOD (workout of the day), we spent some time reviewing the push press exercise. Conan – the coach, first reviewed each step of the movement with us step by step. Then with PVC pipes, we practiced it a few times. He made sure to tell us to go down in weight if at any time our form is compromised. It's not about getting hurt – it's about doing it right.  And all levels of experience and fitness are accomodated – the workout can be as easy or tough as you want. So if the weight is too heavy, you can even do it without a weight. Whatever works for you —
So then we were ready to do the WOD –
WOD
partner up
10 mins AMRAP (rotate at 1m)
45lb Push Press
butterfly sit ups (rest active)
So each partner did 5 rounds and you add up your reps for the push press only. My team came in 2nd! Whoo Hoo!!
They are doing a soft opening in Jan to introduce Crossfit to the community — so those of you looking to start on your journey of health and fitness, this may be just the ticket you are looking for!
*i have been contracted by Crossfit Impavidus to help with social marketing to get the word out about Crossfit!