Posts tagged
inspire
0
This weather is great and perfect for working out. Other than allergies, I love springtime in Virginia. I also love 'springtime' in Arizona –which is where i will be heading in a few short weeks for spring break. Heat, sun and time to recharge —
Warmupx2
run around bldg 1x
sampson stretch
10 pass thrus
10 OHS
10 pull ups (2min deadhang)
10 ring dips
WOD
21,15,9
(Rx was 115/63)
115lb dead lift
73lb OHS
time: 10:13
Ouch! My wrists hurt after those OHS. It actually was the hardest part of the OHS for me! But I am proud of myself — I did heavier than prescribed (Rx'd). So yeah for me!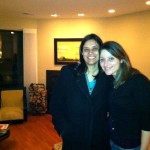 I wanted to share a story about a friend of mine who is in the midst of a life change. Let's call her 'A'. She has had some things happen to her recently that have made her take a good hard look at where she is in her life. Probably the same sort of stuff that happens to us all around our age (40s). Her career hasn't quite traveled the path she thought it would , she is going through the motions in her day to day life, Has a lot of stress on her shoulders — her husband travels a lot, has 2 kids. Probably sounds like most people you know — well I had been encouraging her to try CrossFit for a while, but she was always intimidated. Thinking you have to be hard core — even though I told her that I wasn't like this 3 years ago when I started. Then a sign –A Groupon deal for a local CrossFit appeared in my inbox and i forwarded it to her — she bought it, which was progress, but waited 3 months to try it. But — last week she did it. She and her husband tried it and sure enough — she could do it. It was ok and it was scaled for her abilities. The smile on her face as she came over to tell me that morning was something I wish I took a picture of!
That set a spark inside her — and she went last week, and is going this week. She was telling people about doing pull ups this week. I can't even begin to share how proud of her I am. The only thing I want for her and anyone else stuck in a rut, is to find their "CrossFit". And I am not talking about it as a place — just finding their passion, something that shocks their core into realizing that they are not doing anyone any favors by neglecting themselves. If you could see her the past 2 weeks — she is full of possibilities, pride, and confidence in the future. That's what it's all about — not only for her, but for her family as well! Think about how her 2 daughters are seeing their Mom now!
Hats off to my friend 'A'.