Posts tagged
jason
0
Written by Jason Kitchens, an inspirational guy I know…
Sometimes you are going to have days where you just don't want to.  Perhaps the nite before you had to work late, stayed up that extra hour to catch a flick, or decided to have that one extra drink.  Now it's the next day and you couldn't care less about getting out of bed, let alone consider going for a workout.
Top it off with knowing that the WOD involves something you don't like &  you don't want people to see you struggle. Or maybe a friend or co-worker  is pressuring you to do something much more fun instead of doing what you know you should.
Make no mistake about it, staying motivated, committed  and continuing to follow through can be challenging- for even the best of athletes!   You may wonder how people find this drive inside of them.  There is no real secret to it.  Everyone can do it.
The key is finding what that thing is that will get you motivated and ultimately get you moving.  Start simple.
1. Keep good company.  Surround yourself with positive and motivated people.
2. Stay positive.  The going will get tough and you know what?  You will get through it.
3. Get into the habit of finding what works to help push you through the tough times.  You will find that the good company that you are keeping will help push you through!
4. Know yourself.  Keep track of when you are feeling less than stellar.  There may be a pattern that once you are aware of, you can work around and develop.
5. Help others.  Sharing your ideas and be that person to motivate your friends.  Seeing them do well can help motivate you to do the same.  Sometimes it only takes that one person to get someone going.
6. Be confident!  If you don't believe you can succeed then you are not even going to try.
7. FOCUS.  If you don't know what you want, do you really want anything?
These are just some things that can help you get the self motivation for anything.
As many of you know (and have seen with my pictures!), I lacked any motivation whatsoever.  I was a fat, video game smoking junkie, who didn't want to do anything except stay in a dark room with some oatmeal cream pies alone playing games all day.  Now, I have been blessed with the privilege of coaching some very awesome athletes and on my way to the Marines.
I would not be where I am today without the help of my friends and family (which for me are one in the same).  I changed the company I was around which helped me overcome a difficult time.  Even though I knew it was far away, I could see the light at the end of the tunnel.  When I was down, I learned how to overcome it.  I started to come out of my shell more (I was a very big introvert), and seeing people reach their goals showed me I could reach mine too.  I knew what I wanted and never looked back.
Hey look,  I still have those challenging days where motivation is lacking but you know what?  I have the tools to help me get that motivation and I know I can get through anything and push to the next level.  I reached my goals and beyond.  Never did I think I would be coaching athletes on fitness, motivating others to succeed, or going to serve my country.
Anyone can find that motivation inside themselves to succeed in all aspects of life.  If you know someone who is need of some motivation, be that one person for them.
Originally posted on CrossFit Impavidus blog.
0
I seriously had a really bad day yesterday. I am finding more and more people that I thought I knew – really are only in it for themselves. The more things change, the more they stay the same. I have to learn to not be so open and trusting to everyone. The people in my life should meet the requirements I set and earn the right to be trusted — no more settling for half ass'ed quality people.
I really needed a good hard workout this morning and sure enough — it was waiting for me. I visualized some of the anger inside to push myself –hoping it would leave my body.  I will let you know.
Warmup
800m jog
10 Pass thrus
10 OHS
10 Whirly Birds
10 Cobras
10 Kick to Handstand (no wall allowed!)
Skill
Kip swing
KB swings
WOD
20m AMRAP
100m sprint
12 35# KB Swings
10 Pull ups (I did jumping)
total: 8+100m+8kb swings
Yeah, it sucked. It was humid and 20m seemed to go on and on and on…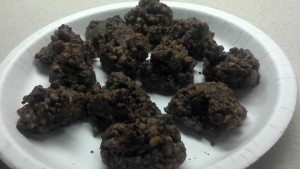 My friend Jason posted this Paleo Cookie recipe. They look pretty tasty –I think I will try to make them soon. Let me know if you do.
Paleo Cookie:
2 Cups walnuts
1/8 cup raw, unfiltered honey (more or less to taste)
1 Tb. cinnamon
2 egg whites, whisked till frothy
Grind nuts and cinnamon in blender or food processor. Stir in honey.
Combine with egg whites. Drop by teaspoon on oiled (coconut) cookie sheet. Bake at
350 degrees 15 minutes. Cookies will be soft; do not overbake. Makes 15
cookies.
2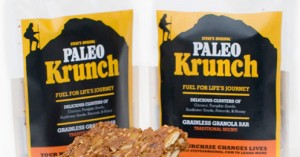 Last weekend, I tried a Paleo Krunch Bar from my friend Jason — and that was all I needed — it was Delish! Seriously, folks.
A delicious blend of coconut, pumpkin seeds, sunflower seeds, almonds and honey, PaleoKrunch fits into your bag and can answer any snack attack. Perfect for people following Zone® or Paleo®
I went home and ordered a batch of them along with their Paleo Krunch cereal. I really miss cereal now that I am Paleo, but this cereal paired with coconut milk — perfect substitute. It's like eating granola which is close enough for me.
In addition to being delicious, Steve's Original gives back to the community in a really meaningful way.
15% of proceeds from PaleoKits, PaleoKrunch, and other Steve's Original products go to the Steve's Club National Program to help bring fitness, nutrition, and personal development to youth across the country – one kid at a time.
So while a bit on the pricey side – its good, high quality, paleo friendly food that not only meets nutritional needs, it also helps others. Steve's Original for the WIN!