Posts tagged
kettlebells
0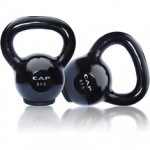 This morning I attended a Kettlebell Bootcamp in Ashburn. A friend of mine introduced to me to John Hastings who has just started running these camps.
C3i Sports Performance has bootcamp style workouts in addition to other services.
Today's session was held at 6a in Ashburn Village at the local elementary school. It's outside and every day offers a different challenge.
Today's workout was:
warmup
1 lap around track
stretching
with a band, different upper body stretches on the playground equipment
workout
we were set up in our own stations and there was a cone in the middle, a mat at one end, and a kettle bell, jump rope, & divider at the other.
We ran to the cone, ran back, ran to the kettle bell, did 40 double arm swings, ran back to the mat, did 10 reach up sit ups/10 push-ups, ran to the cone, ran back, ran to the kettle bell, did 40 alternate arm swings, to mat, did situs/push-ups, then did it again but did 40 weighted jump ropes instead of kettle bells, ran back did the push up/sit up combo, then finished it off with jump over the divider 20 x. A few times, John called out back peddle and if you were running, you back peddled.
We did the entire thing again and instead of doing 40 reps, we did 20 reps for each and did 20 Russian sit up twists instead of reach up sit ups.
We ended with a light run around the track.  I used a 12lb kettlebell which for me is rather light. At the boot camp I attend- we don't use anything less than 15lbs but it allowed me to really focus on the cardio aspect of the workout and I can tell you – I got winded with all the running/race style.
It's a co-ed camp and there were all ages and they ranged in fitness levels – from a 13 year old boy to a 52 year old lady. What I really liked about this camp was that this workout allowed different fitness levels to work hard but the hard that is relative to them. So no matter what your level is, you can handle it.  When someone is just starting out, it can be daunting and hard to feel like the workout is just way out of your league.  Everyone was very friendly and welcoming as well.
I met a 13 year old boy and his mom who attend. The boy is pretty impressive – does Jui Jitsu 5x a week and comes to the boot camp 3x a week. His mom just started the camp and you can tell she is working hard. I thought how great it is that they both come together to get fit and healthy. What a great example she is setting for her son. It's meeting those kind of people that re-inspires me and fuels my motivation.
Have a great Friday! I am scheduled for the Aol. 5K Spring into Summer this Sunday – see you there!