Posts tagged
krav maga
1
When was the last time you stepped out of your comfort zone and tried something new? I had a few opportunities this weekend to do just that and you know what? It was awesome.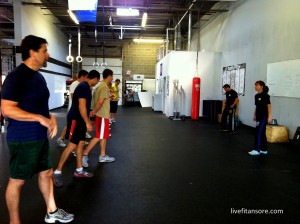 I am lucky enough to be able to attend an Intro to the Fundamentals of Krav Maga with Krav Maga Loudoun through our CrossFit Gym and my first class was yesterday morning.
Krav Maga is the official self defense system of the Israeli Defense Forces, and has been taught to hundreds of law enforcement agencies and thousands of civilians in the United States.
Krav Maga is a simple, effective self defense system that emphasizes instinctive movements, practical techniques, and realistic training scenarios. It's a beginner's level class — so we are going to learn the following:
Mental fitness for managing threats
Basic Striking: Hands, Elbows, Knees, & Legs
Defending Strikes, Chokes, Headlocks, etc.
Using Common Objects for Self-Defense
Defending Yourself on the Ground
It's a great way to exercise and I gotta say –you feel bad ass when you are doing the drills.  
I have mentioned before after attending Tony Blauer's defense workshops, the concept of being comfortable with being uncomfortable and have tools in your toolbox that you can bring out if you ever do need them. What I like about this stuff is it helps you mentally and physically. You have to give yourself permission to fight back and show strength.  Too often mostly women but there are some guys out there too, that feel like they have to apologize for displaying any sense of strength or muscle, but in an attack having that attitude won't help you. You have to be always ready to defend yourself and creating muscle memory with reactions to certain scenarios is the only way.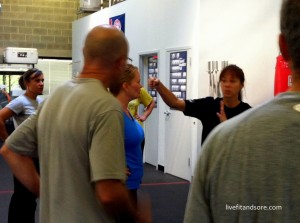 CrossFit is like that too — you have to create the neurological connections so that you can pull them out when you need them.  It all works together and helps you get out of your comfort zone and keep your mind and body young!
Today's workout was a repeat almost of Friday's workout — Thrusters and Pull ups. But this time– it was FRAN.
warmup
600m jog
bear crawl
lunges
crab walk
sprint
squats
skill
WOD
FRAN
21-15-9

6:29 time