Posts tagged
kstarr
0

There's still plenty of time to donate to Team Hoagie's Heroes as we run to celebrate Scott Hoaglund's fifth year colon cancer free!!  The race is this Sunday!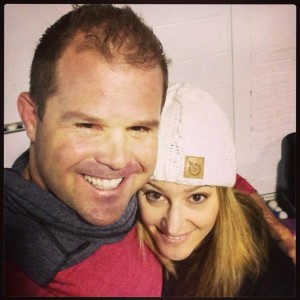 It was an awesome weekend – I love, love, loved the Mobility workshop with Kelly Starrett on Saturday. It's so true that when you are around people who are passionate about what they do, it is infectious. I just ate up what he shared and was just blown away by some of the info he gave us.  I know deep inside that this is where I am meant to be, learning how to help people live healthier, happier lives in ways that make them and me better people.  I will do a write up about Kelly's workshop but for now — let me just say that it has changed the way I see myself and the way I see athletes in action.
And Kelly Starrett is awesome. A funny, smart guy that not only knows his shit but also knows how to teach his shit.  You can tell he demands a lot of his clients and doesn't slack on himself either. I think I am now a bona fide fan, groupie, stalker of his. He truly blew me away.
One thing that I am always concerned about in our CrossFit community is the lack of real experience and knowledge many coaches and affiliate owners have. They open up or start coaching and have all these athletes that are looking to them for advice, guidance and sage advice. Well they can't give it because it takes lots of hours of hands on training to be able to really look at athletes and help them move beyond the basics.  Kelly and his team are doing what they can do help change that.  Yes, CrossFit is absolutely scalable but how do you know how/when to scale. Many coaches have never worked with injured or older athletes. They come into the gym and expect the coach to be their first line of safety and guidance. I got news for them –so many coaches have never, ever worked with the modifications that certain athletes require.   So, having mentors and leaders in their field – like KStarr – is vital. He and Carl Paoli, and Tony Blauer are doing their part -helping educate and lead the way.
But coaches and affiliate owners have to seek them out and unfortunately too often –many don't. It really is an athlete beware situation and we all need to take responsibility to ensure that the coaches and CF Gyms we are going to have experienced people running them because in the end – the only person that suffers from an injury is YOU!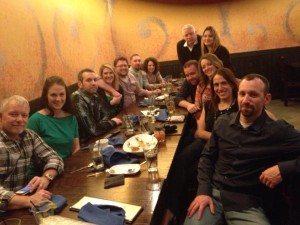 Saturday evening – I went out to celebrate my dear friend Monica's birthday! We had a nice dinner with the CFI gang and then went to our normal hangout – Jimmys.  I love my friends!
Then on Sunday, I went and tried 13.2 again and didn't fare much better than on Friday. It is what it is.  Then later on in the day, Scott and I went on a short 2+ mile run –getting ready for our big 5K on Sunday!
warmup
drills
drom
double under practice
skill
knees to elbows
wod
20m AMRAP
15 Double Unders
10 Push Ups
5 KTE
total: 14 rounds +10+1 
0
The CrossFit Games 2013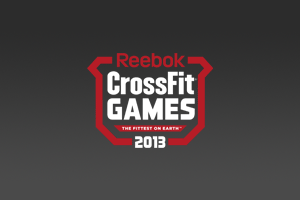 Sometimes we long time CrossFitters forget that many people have no clue what the CrossFit Games are and why we are all talking about it. I didn't register because I think I am going to move on — I did it for the challenge and i love the fact that athletes all around the world are doing the same workout this week as a community.  Elite, everyday Joes, and newbies are all taking it on and doing their own personal best.
I also love that moments before you start, you get that nervous excitement in your belly even though you have done countless workouts before — it's just this adrenaline building up. For me, I remind myself it's just a workout – I'm here to maintain my fitness and feel great, blow off some steam, de-stress, have fun – but then the clock starts to countdown and you hear 3, 2, 1…beep beep beep and you GO!
And then the mental game kicks in — which is a part I need major help with.  When I am in the zone, nothing can stop me. I have been there and felt it. But when I start gasping for air, my lungs start to get heavy and mentally I start to lose focus and begin to focus on the very important point of breathing.  I have asthma and there are times when it doesn't bother me but when it does, it does big time.  It's also very heavily affected by the weather –when its cold and or very dry.  I think I need to deal with it better –learn how to manage it when it starts to creep up and I panic during a workout.  I know I haven't been really on point with managing it and it's days like today, when I really feel let down by my own performance that it shows.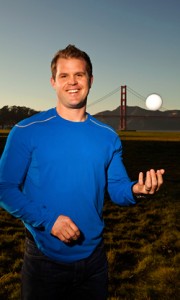 I'm off to a Mobility Workshop tomorrow with the famous Kelly Starrett – KStarr – to those insiders!  KStarr is also the coach behind MobilityWOD.com and owns CrossFit San Francisco. I have been wanting to go to this trainer's course for a long time and finally registered before it sold out.  I am so hungry for info from this amazing community of athletes and coaches that i could go to these workshops every week if possible.  Learning from the best is the only way to go!
warmup
mobility
DROM
WOD
CF Games 13.2
10min AMRAP
5 Shoulder to OH
10 Deadlifts
15 Box Jumps
total: 158 reps
Again, not my best showing but it is what it is and I'm moving on….