Posts tagged
ladies
0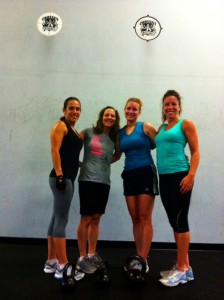 I heard an interesting question on the radio this morning — If you could, would you use a life reset button? Start over, redo your life — it's definitely a question that doesn't have an easy answer – at least for me. There are things that happen in your life that you wish wouldn't have, and things that you are glad did. Erasing it all –re-doing what you call your life. Isn't the culmination of all that happened to you make you the you of today?  And if you erased it all –would your life even be better? Hmmm…
My hands are still ripped up from the kipping pull up clinic on Sunday — they burn whenever I try to pumice them down. Oh the life of an athlete should not include whining about it — or should it? This athlete does —
My friend Kim I made it to camp this morning and the reason that makes me so happy is that Kim has been going through a tough time and discovered CrossFit Impavidus through a mutual friend of ours –who is the overall definition of CrossFit. Even his name — SVEN — conjures up visions of big man, big weights.  Sven knew Kim was going through a rough time and encouraged her –well being honest– dragged her to a Saturday class to help her get out of her funk and take advantage not only of all the physical benefits of CrossFit, but the emotional and community aspect as well. I met her that first day, and knew automatically she and I were going to be friends. I am sure she was thinking, this overly friendly lady scares me. I get that a lot.
I also get that for some it's not so easy to make the accommodations that need to be made to get your butt to CF –for whatever reason. But not being easy and not at all do-able are NOT the same thing.  So she realized that she needs to get her butt here in the AM for her own sanity and sure enough she came this AM and will be making it here on Thursday as well. How did she do it? She asked for help. Whether it's asking your kids, your spouse, your neighbor, your friends — sometimes it takes creativity but it can be done and has to be done for you to be on the path to living fit and sore!
Warmupx2
sampson stretch
10 pass thrus
10 Whirly Birds
10 Bendy Whirly Birds
10 Pull ups (yeah, I did 5 bc of my hands)
10 Ring Dips
20 DUs/50 SUs
Skill (It's Coach Jerry so Gymnastics)
Handstands
KB swings
note: I need to start challenging myself to not use the wall for Handstands. Jerry would not let us today and I notice that I do indeed use it as a crutch to re-adjust myself often.
WOD
150 KB Swings (1pd/1.5pd)
25 situps each time you put the KB down to rest!
time: 7:30
I ended up doing 125 sit ups total. I actually like sit ups so to me, resting was not at all torture. Kinda reverse psychology but that's probably just me.
0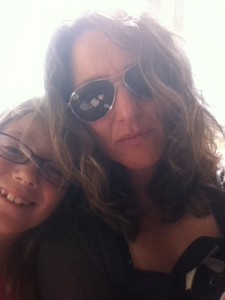 One of the Ladies of CrossFit showed up for this Workout — Cindy. I really don't mind her but that doesn't mean I like her. And it's one of those workouts, that look easy at first — yeah, so not easy.
Warmup
800m run
10 Pass thrus
10 Whirly Birds
10 OHS
5 Wall Handstands
Skill
Squat therapy
WOD
'Cindy'
AMRAP 20m
5 Pull-ups
10 Push-ups
15 Air Squats
rounds=14+8
1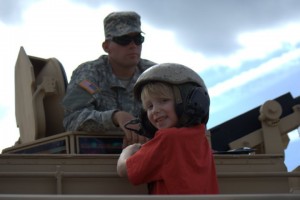 It was a super busy weekend — Half the family went to the Joint Services Air Show and Hannah and I went to the Reston Arts Fair — and then we had laser tag parties, CrossFit, CrossFit Kids — laundry, cleaning, errands — no down time at all this weekend.
I'm going to share some of the air show pics from the Joint Services Air Show over the next few days — perfect weather for it!
For some reason I slept horribly last night – the combo of the rain storm and knowing what tomorrow's workout was –well who knows why but it made for a rough wake up. But up I did — headed downstairs, added some new tunes to my playlist and off I went. I was a bit worried when I got there and it was only me and Coach Nick. I don't mind getting some 1:1 coaching but there are certain WODs that I just don't want to do solo with a coach focusing in on me.  Right at 6 on the dot – Anna and Monica showed up! Yay for them.
Monica actually told me last night that she was coming so if she hadn't shown up — I would have gotten after her! And Anna – I'm proud of her. She just had a baby maybe 7 weeks ago, has not worked out in over a year and came on Saturday and again today -even though she was super sore.  Showing up is harder than most workouts, so no matter the fitness level, those that walk through the door are heck of a way farther along than 90% of the population out there.
She told me how sore she was from her first workout back on Saturday. I remember when I first started and in fact, I can look back because of blogging to those first few weeks during the Summer of 2008. I don't think I could describe the pain adequately to anyone that asked. So when she was telling me about it – I suggested to her to try to remember that feeling — because it may help to ensure she never goes back. I can not even imagine feeling like that again, nor do I want to.
Warmup
30 Double Unders
20 Squats
20 Ab mat sit ups
20 push ups
bear crawl
Skill
Thrusters
Pull ups
WOD
'Fran'
21,15,9
65# Thrusters
Pull ups (blue band)
time: 8:06
This is actually 1m+ more time to complete this Fran WOD than last time I did it in February — however, I used the green band to help with my pull ups the first time and the blue band this time. The Blue band means improvement and gives you less help to do pull ups. I'm ok with that — improvement and growth is what I am after. I also started to do some massive shaking after round 1 — like my body was finally waking up and saying Holy Cow Lady – what are you doing to me?