Posts tagged
lawn
0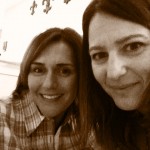 this is one of my most favorite people and who originally inspired and led me to try my first boot camp way back when – Melissa!!  At my friend's baby shower yesterday, I was lucky enough to get to hang out with her! I miss getting my fitness on with her every morning — but we talk a lot in our real life so all is good!  I wish everyone out there could find someone like her — she truly has the most wonderful heart. I am thankful that she's in my life. Enough sappiness —
So I am switching things up a bit tomorrow through Weds, because Scott is out of town. I am going to go to the evening classes and bring the kids along. Sometimes you have to adjust and get creative to make it all work in your life.
I wasn't sure I had much to say today — but I went out to the mow the lawn and our self propelled feature on the mower is broken and our yard has some slopes. Nothing major, but it's not one smooth, flat surface. When Scott first got sick and I took over the mowing every weekend, I remember how freakin hard it was to push that mower. It was a serious struggle and the front yard alone took me FOREvER!  I am not sure but I think the neighbors were caught laughing at me trying to master the art of the mow.
What's even more ironic about that is I grew up with a single mom. My sister and I did mow our yard but it was flat — so it didn't seem that big of a deal although I don't think I mowed all that often. I was a serious couch potato!  Anyways — mowing today, that mower didn't seem heavy at all. It was dare I say a breeze to do.  It's noticing things like that, that make you realize how far you have come and the progress made.  I finished the lawn in no time flat and wasn't exhausted when I was done.
Here's to being fit!