Posts tagged
lemonade stand
0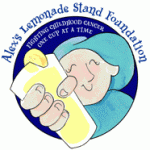 I had the pleasure of meeting Jay and Liz Scott, the parents of an extraordinary little girl – Alex – and hearing their story a few years ago during a Leadership camp I organized for student's that attend K12, Inc.* schools. After that meeting, we were so inspired , K12, Inc. partnered with them to ask our families from around the world to hold Lemonade Stands to raise awareness & money for childhood cancer research. This wonderful foundation, Alex's Lemonade Stand Foundation, which celebrates its tenth anniversary this year, has raised more than $30 million for cancer research, and funded more than 100 research projects at nearly 50 institutions across the country to date.
When I first heard their story during the summer of 2007, I had no idea that I would soon be dealing with my own family journey with Cancer and remember being so floored by the courage and strength that these 2 showed when sharing Alex's story. Now that I have my own cancer story to share – I completely understand the impact it has on your life, your expectations and your perspective. I have even more respect and admiration for them  if that is even possible. They are truly amazing people!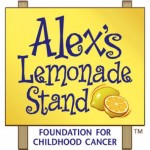 Register today for Lemonade Days – June 11th, 12th and 13th, 2010! and hold your own stand with your kids!
During Lemonade Days, dedicated volunteers host thousands of Alex's Lemonade Stands across the country during the same June weekend that Alex first held her original stands. Each year, Lemonade Days raises over $1 million for childhood cancer research. It's a great way to get out there and give back with your kids to a cause that directly impacts kids.
If you can't hold a lemonade stand that weekend – you can hold it anytime of the year or get creative, and ask for birthday present donations or just simply send in a check. It really is a worthwhile cause!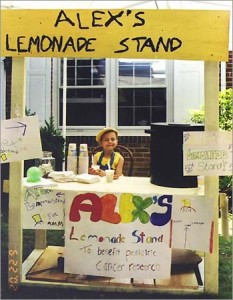 Alexandra "Alex" Scott was born to Jay and Liz Scott in Manchester, Connecticut on January 18, 1996, the second of four children.

Shortly before her first birthday, Alex was diagnosed with neuroblastoma, a type of childhood cancer. On her first birthday, the doctors informed Alex's parents that if she beat her cancer it was doubtful that she would ever walk again. Just two weeks later, Alex slightly moved her leg at her parents' request to kick. This was the first indication of who she would turn out to be-a determined, courageous, confident and inspiring child with big dreams and big accomplishments.

By her second birthday, Alex was crawling and able to stand up with leg braces. She worked hard to gain strength and to learn how to walk. She appeared to be beating the odds, until the shattering discovery within the next year that her tumors had started growing again. In the year 2000, the day after her fourth birthday, Alex received a stem cell transplant and informed her mother, "When I get out of the hospital I want to have a lemonade stand." She said she wanted to give the money to the doctors to help them "help kids, like they had helped her". True to her word, she held her first lemonade stand later that year and raised an amazing $2000 for "her hospital."

While bravely battling her own cancer, Alex continued to hold yearly lemonade stands in her front yard to benefit childhood cancer research. News spread of the remarkable sick child dedicated to helping other sick children. People from all over the world, moved by her story, held their own lemonade stands and donated the proceeds to Alex and her cause.

In August of 2004, Alex passed away at the age of 8, knowing that, with the help of others, she had raised over $1 million to help find a cure for the disease that took her life. Alex's family-including brothers Patrick, Eddie, and Joey and supporters are committed to continuing her inspiring legacy through Alex's Lemonade Stand Foundation.
*I work for K12, Inc and we are once again supporting Alex's Lemonade Stand during Lemonade Days – encouraging our families to hold stands to raise money for cancer research.  In the 2 years that we have partnered with ALSF, K12 students have raised more than $135,000! Not too shabby!!