Posts tagged
moms
0
My first job out of college was at Aol. — and as many of you know, I met my husband there, had my 2 wonderful kids while working there (not actually working — but you know what I mean) — it really does have wonderful Parenting benefits —
So I completely agree with its spot in the 100 Best Working Mother Companies
They offer great resources including private and comfy nursing/pumping rooms, a lactation consultant, and paid leave available and the child care center is seriously amazing.  Both my kids have been there since they were babies and are still attending after school care there. I have never ever had a doubt about the love and care they have received there. Some of the staff are like family to me —
0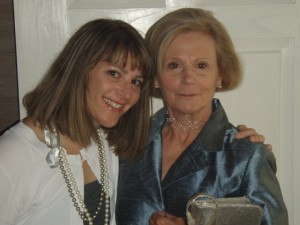 HAPPY MOTHER'S DAY to all the Moms and those that do the job without the title! Now a days there are so many definitions of what a Mother is – so they should get to enjoy the day too!
This is a pic of my mom and I at my brother's wedding last August in Carmel, CA.  My mom is an amazing lady and I am lucky to have her in my life.
Right now Scott is making me pumpkin pancakes! Life for me is good – Enjoy your day – do something that makes you happy!
0
Good weight loss programs are usually uncomplicated, but you need to balance an everyday workout routine with a properly crafted, nutritious diet. Listing foods to stay away from, foods to be eaten mostly, and foods to be consumed moderately can be a very good way to properly begin a diet program. The purpose here is to adopt controlled eating, with only as much consumption as is necessary for healthy sustenance.

Some good common sense advice that we should read regularly.

While overall survival rates are as high as 70 to 80 percent, depending on the type of cancer, teenagers have not benefited from the huge advances in survival made by younger children and much older adults in recent decades. They are also far less likely to participate in clinical trials, which offer the most up-to-date therapies: Fewer than one in five adolescents with cancer are treated in a clinical trial, according to some estimates, compared with well over half of younger children.
Apparently, hearing loss in one ear during critical periods of brain development can rewire the auditory cortex, changing the way it processes sound.


Good info for those parents whose kids' have constant ear infections. Knowledge is power and you can be armed with information when you talk to your doctors.

Very timely and relevant. You mean I am not the only one doing this? What!?? Very interesting cultural shift occurring…
Boot Camp is at once a networking and social event, bringing together virtual friends for some real-time girly bonding, and an educational seminar designed to help the participants — about 90 percent of them mothers — to take their blogs up a notch, whether in hopes of generating ad revenue and sponsorships, attracting attention to a cause or branching out into paid journalism or marketing.

According to a 2009 study by BlogHer, iVillage and Compass Partners, 23 million women read, write or comment on blogs weekly.