Posts tagged
nike
2
I have found that when I have some sort of immediate feedback from my workout, it helps keep me engaged. Immediate being the key word. I found this article: Top 5 Fitness Apps For Your Iphone Or Ipod Touch | Tech News, Reviews, Business, Health News and More.  which mentions a few of the ton of fitness/health related IPhone/IPod Touch apps to help you data junkies get more involved.
I do not have an Ipod Touch or IPhone, but there are some tools that I use to help me get my fitness on —
I always use a heart rate monitor – mine is a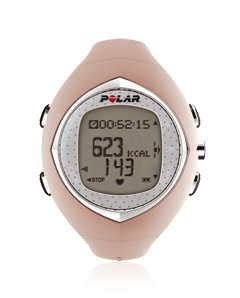 Polar F6 which gives me my Heart Rate and Calorie Count during the workout based on data that I have supplied. It also creates a personal HR zone based on my workout history data to target my optimum heart rate.  One thing many people don't realize  is that many gym machines sync with Polar and other brands and will display your HR on the machine while you are working out.  I like knowing where my HR is because it helps me know how hard I am working and/or if I am not working hard enough. It also calculates weekly calorie burn, and aI know how many calories each week I need to burn to stay within my normal range.  There are fancier heart rate monitors out there – you just have to find the one that works for you.  Mine has a watch and a chest strap – which I thought would really bother me, but I have found once it's on, I can't feel it at all.
The other little gadget I use is a Nike+ when I run. With the Nike + iPod Sport Kit or Sensor and a pair of Nike+ shoes, your iPod nano or iPod touch gives you feedback while it records your run. I can't wear Nike shoes, so I went to a local running store and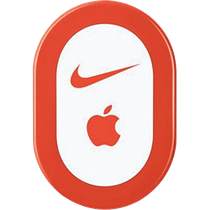 bought a little pouch that slides under my shoelaces and fits the little sensor perfectly. If you do have a pair of Nike+ shoes, the sensor fits under the cushion within your shoe and stays there.  There is a thin little piece that goes right in your Ipod slot and you then see Nike Plus listed on your IPod. You set up your stats (weight, age, gender) and then you can record your runs and sync it to a playlist. During your run you can press your IPod and the voice will tell you your pace and how far you have run. I have found it to be a fun tool to use while I am running although not always the most accurate. It could be due to the pouch I use but it's close enough for me to get the idea of how far and my pace.
The other cool thing is you can join the Nike+ community and the Nike+ will sync via ITunes and you can have a good record of your runs, your distance per run and cumulative miles. You can also connect to Twitter and Facebook to broadcast your runs to all your friends.
There are probably a hundred more tools out there that you can use to help you stay on track with your fitness goals. What ones do you use/prefer?