Posts tagged
pilates
0
A friend sent this article to me today: What Happens When You Follow Your Passion and it got me thinking more about how to do that… I've been struggling with finding a path to explore what I am passionate about. It's frustrating for sure but as quotes say – sometimes the hardest part of any journey is right before a breakthrough…
Jury Duty Fun
Yesterday, I had a busy day. First, I had my turn at serving jury duty. After a few hours of sitting there and the selection process, I was dismissed as a juror for a criminal trial. I've never been in a court room, let alone seen how it all goes down. Just like on TV, it was pretty slow, stuffy, rigid and old fashioned. I couldn't help but notice that everything in the court room was wood and rigid. Sitting there for an hour or so was not what I would consider comfortable.
During the selection process, the judge, prosecutor and defense attorney each took their turn asking generally benign questions. It's so interesting to see how it all goes down and how people filter questions differently. But man it goes slow and seems to be very low tech.  Anyway, I was dismissed for whatever reason and now I can say"been there, done that' (until the next time…)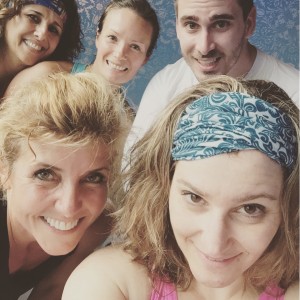 Revisiting [solidcore]
Later in the evening, I met up with my dear friend Mastaneh and we drove to [SolidCore]. You may remember me sharing my experience doing a class last March, when we hit up the one in Ballston.
What is [solidcore]? 
Someone online described it as "Pilates on Steroids". Ive never done Pilates, but I can tell you it was the kind of workout where I literally hated it while doing it but when it was over – i felt great and wanted to do it again to challenge myself to get the hang of it. You use a megaformer machine for the 50 minute class. It's all slow, controlled movements focusing on core muscles. The classes are kept small so the instructor can give everyone the attention needed.  Depending on the movement, you would do a 4-6 count to ensure you are really working the muscle.
This one just opened in the Mosaic District in Fairfax and we brought along some extra pals.  Let's just say that it was as hard as I remember and I was not the only one of that opinion. Even my boxing instructor, Alex, who joined us agreed.
When we were done, it was like a sweat festival. Not only was I drenched with sweat, my muscles were twitching for some time afterwards. I am definitely feeling the results of all that slow, deliberate core stuff today.    Amd after the class, the instructor told us how great we were, especially because we were beginners and it was because of how strong we all were.
Thoughts about [solidcore]
Location: 
I wish that [Solidcore] was closer and/or in Loudoun County. Right now they are focused on the immediate DC area. I'm sure the demographic is good there but Loudoun County is the richest county in the country so that should count for something.
Price:
I'm not usually one to balk at certain things cost wise. I believe that for me – my health and fitness is worth paying for if it works. I could pay 20 bucks a month at a regular gym but I know it's not going to work long term for me. I need to workout with others and have an instructor lead the way.  I'm willing to pay a bit more for it because it works.  A lot of folks pay that low monthly membership at their gym but rarely go or go and do the same thing all the time – seeing little to any results. That is a waste of money no matter how cheap.
[solidcore] is pretty expensive even to me- up to $34/class although they are running specials. The classes are limited because everyone works on a reformer machine, so I get why they charge more but it still seems a bit more than I would be willing to pay on a regular basis.
Overall: 
The instructor was great and it was a great workout. Very different than the other stuff I do but different in a great way. I would definitely add a class or two into my regular overall monthly training if it were closer. It's easy to see how strong, limber and flexible you can become by doing it regularly.
[WRG id=11032]
Be Kind
Stories of kindness and bravery are the stories we should be sharing and talking about more…
RIP: Nicholas Winton, Who Saved Hundreds Of Jewish Children From The Holocaust, Dies At 106
Dubbed the "British Schindler," Winton helped 669 Jewish children avoid a grim fate by smuggling them out of Nazi-occupied Czechoslovakia.
0
I loved today's workout although it was a really tough one. Combine the heat and the workout = one doozy of a morning workout!
Warmup x 2
high knees
forward lunges
heel to butt
springs
Core x 2
hip missions
core twists up and down – (legs and shoulders up and you twist, twist, twist then when he says down, you bring your shoulders down quickly and then right back up and begin twist — over and over and over again)
pilate stretch called Pilates Hundred.
50 push-ups
General Stretching
Workout
15, 12, 9, 6, 3
push press 65lbs
checkpoint pushups x 2
100 Jump rope plus x 5 of the # above
run (400m, 200m, 100m) repeat
power clean 95lbs
You remember how yesterday I mentioned how hard the burpees were? Well take a checkpoint which is like a burpee but no push-up or jump at the end. You go to the ground, spread your legs, bring them back together get up and touch the points of your hips. Well do that and add a pushup right after you bring your legs together and what you have really is a combo of a BURPEE and a CHECKPOINT. I was like you have got to be kidding me – WTF! But I got thru them – and finished the workout in under the 30min time limit. This was my first Thursday doing this workout since I missed last weeks…
I am so happy tomorrow is a rest day for me. My body hurts.