Posts tagged
plane pull
0
Here are just a few of the pics from yesterday's Plane Pull — our team raised more than $2500 for VA Special Olympics and although we didn't win – we did great considering we were one of the only teams comprised mainly of women. We pulled a 1200lb plane in like 8.6 seconds.  It was a fun day with a great group of people for a great cause! Can't get better than that!
I woke up to rain this AM — so I waited until it cleared up. I knew Scott and Nate were headed to LAX in the afternoon so I encouraged Hannah to get on her bike and come with me while I ran.  It's a great way to encourage fitness with your kids while you get your workout in too! Hannah is still getting comfortable on her bike, so we went around the outer block 2x for 40 minutes total.  Sometimes you have to get creative to get a workout in — but whatever happens, you get it in! No excuses!
0
A few pics from today's Team Plumbline Dulles Plane Pull — was a really fun event for a great cause  – VA Special Olympics.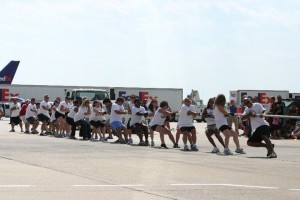 0
Hi Friends,


I am participating in a special event here in Northern Virginia to raise money for the Special Olympics. As you all know –  2 years ago, I made changes in my life that has me focused on living a healthy and fit life! As part of my  change, I regularly participate in different activities and events that give back to the community. With my trainer- Michael Thrash – Plumbline Training – a group of 25 Plumbline followers will be pulling a plane at the18th Annual Dulles Plane Pull! www.dullesday.com to raise money for the Special Olympics. And while we have already reached our goal of $2500, this non-profit could always use more!  I would appreciate if you could offer your support to this great charity and support me as we show those other groups that Plumbline sets the bar!
I know many of you have causes you currently support so no pressure if you are not able  —
thank you!
steph