Posts tagged
play
0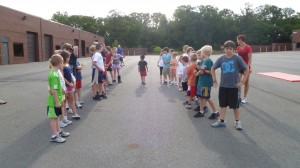 N.J. fathers create toys that combine old-fashioned play, online excitement
Love this idea. Combining real outside exercise with what many kids love – unlocking game benefits.
Now a trio of New Jersey fathers has developed an online interactive game with a real-world component in which leaving the tangible toy behind is not an option.

It's only by going outside and kicking a ball around that kids can advance through this new online destination.

Called FunGoPlay, the sports-themed website provides kids with actual toys — soccer balls and Frisbee-like flying discs — after they subscribe online. Both the site and the toys are designed to make sure the sports equipment is taken outside and put to use.

As children horse around with the equipment, sensors in the toys track how many minutes are spent playing and how many times the soccer balls are kicked. After about seven minutes of play, the equipment generates a code. That code unlocks a cache of points and rewards online, which kids can use to enhance their virtual athletic abilities.
0
In addition to me being a bit under the weather, my real job has been insanely busy. I work for an education company and the time before Back to school is our busiest. We are feverishly working trying to get our ducks in a row ready for the upcoming school year.  It seems that everyone around me is crankier than usual including me. I just don't even have the slightest bit of patience and it is taking a toll on the people around me.
I did get to see my boy Nate perform in his Kindergarten play today. They did Mother Goose's Nursery Rhymes and he was the cat in the fiddle. That did bring my spirits up a bit but in order to make it to the performance, I had to leave an important meeting earlier than I and the participants would have liked.   It's the pressure of the working parent but moments like those don't happen forever and they grow up way too fast – I am not willing to miss a thing!
I skipped my usual Thursday workout to get extra sleep since I am not feeling so great. It is somewhat out of character for me but I realized recently that while I love getting exercise and being fit, I can't get crazy about it.  Sleep does a body good too!
I may go out for a run tomorrow morning depending on how I feel. My goal is some sort of formal exercise 5x a week and sometimes I even go to 6. I know it's close to an obsession.