Posts tagged
protein
0
Starting this week, I'm focusing on eating enough protein daily. I've struggled with this in the past. Mainly because it takes more effort and prep time to make healthy, good high protein meals and it's a hell of a lot easier and faster to eat carbs (healthy kind or not).   My body responds really well when I eat enough protein and even though I know this — I still don't always make the effort.
I remember when I was first becoming interested in health and wellness, I was going by the what the government says I should eat — guess what? I was not eating nearly enough protein to reach my goals! So I went on the hunt for better information…
How much protein do you need? 
According to many of the experts out there, you need 0.8-1.5 grams of protein per pound of body weight.  To make it even easier, use the "1 gram of protein per pound of body weight" which has been around the fitness world for decades is a fine middle-of-the-road protein intake for most people.
How Much Protein Per Day To Build Muscle, Lose Fat & Be Healthy?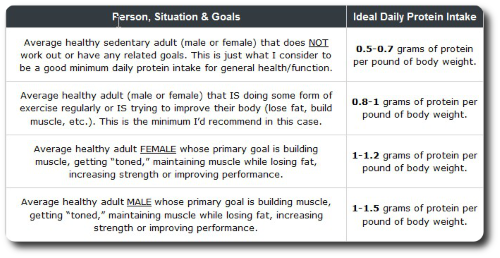 With that in mind, I am renewing my commitment to getting enough protein daily.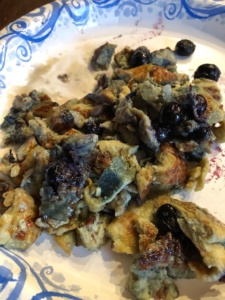 This morning I made a 3 ingredient pancake breakfast. While they don't look super pretty, I assure you they were yummy with a touch of pure maple 🍁 syrup.
1 Ripe, soft banana (easier to mash up)
Eggs (I use 2/3 eggs and then add 2 egg whites to give it a bit more volume)
Frozen Blueberries
Mix and mash it all together and skillet them up. Mine didn't come out all fancy and round but they were good all the same. I also added some Kerrygold butter and a pinch of salt and pepper to give it more flavor.  (So that makes six ingredients!)
You can experiment a bit by adding in vanilla, cinnamon, or other fruit. Don't forget to top it off with some pure maple syrup (not too much though!) and you have a healthy, high protein breakfast.
Note: The one comment I heard from others is the texture takes some getting used to. Personally, it didn't bother me, but it's good to keep that in mind. 
Let me know what you think by leaving a comment below.
0
In the most recent issue of Women's Health magazine they had a short blurb about sources of protein and if they are all created equal –The answer was No. Up until recently, I never really thought about this. I always figured, protein is protein. But after looking into it and talking with others — you want to eat whole, efficient and complete food — and some would even say the info below should leave out dairy products all together and go pure 'paleo'. One of the things I have found — we are all different and we need to try different approaches to see what works best for you, your lifestyle and your body type.  But the key take away here is not all protein is equal —
Many plant foods, including nuts and beans, can provide a good dose of protein, the best sources are dairy products, eggs, lean meat and fish. …Unlike plant based proteins, animal protein is complete, meaning it contains the right proportions of the essential amino acids your body can't synthesize on it's own. It's possible to build complete protein from plant based foods by combining legumes, nuts and grains, but you'd need to consume 20-25% more plant based protein to reap the same benefits that animal-derived sources would provide…
0
Nuts: Impact on Weight and Health.
I like to eat almonds to get some extra protein from time to time. I do remember that a nutritionist told me to be careful if I am trying to lose weight though – and nuts should generally be off the menu when that is the case.  They do have a ton of benefits so I guess if you can keep the quantity in check – it's a safe bet.
How about you? Do you have issues just eating a "handful" of nuts?