Posts tagged
pull ups
1
I went a little blonde crazy yesterday. I have been too busy (aka lazy) to get my hair done lately but finally bit the bullet and took care of it yesterday evening.  While I was there, my stylist was telling me her brother in law is a war veteran and loves CrossFit. One thing she said struck me as funny — she said that from what she can tell — Those who get into CrossFit, well it seems to take over their life. I wonder what folks out there think about that statement. Is that bad thing?  Working on your fitness in a healthy way, hanging out with like minded people, having fun, getting healthy and learning about healthy eating? Doesn't sound like such a bad thing to have take over your life to me…
I can't even imagine not being fit anymore. I think my body would go into ultra shock. I can vividly remember the feeling of my back always being tight and just an overall feeling of uncomfort in my own body. The only un-comfort I have now is when I am sore and wiped out from a hard day's work. Now that's the way it should be — if you currently at a point where your body is failing you because of your own doing, get up and do something. It really is about taking that first step. The rest will fall into place if you really want it to.
Another meeting of one of the CrossFit ladies today — Fran on Monday, Cindy on Weds. Makes you wonder which 'lady' we will meet on Friday???
Warmup
800m run
2x
10 Pass Thrus
10 OHS
10 Ring Rows
10 35lb KB Swings
Skill
Kip Swing
Kip Pull Up
WOD
'Cindy'
20m AMRAP
5 Pull-ups
10 Push-ups
15 Squats
total: 16 Rounds
I did the first 2 rounds of Pull Ups with no band, but since I can't yet grasp the Kip Pull Up – I moved to use the Blue Band to help. In our box, the blue band is the least help you can get with a band. Once I did that — pull ups are a breeze. I am frustrated that learning this kipping pull up is taking a lot longer than it should. It's not strength, its timing for me. I am trying to do some visualization of it at night in addition to just practicing when I can. I know its just a matter of time before I get it but it really isn't something that can be taught. Another challenge for me is my hands are killing me — the calluses are uncomfortable. I know it's a sign of working hard, but can't we come up with another way to show signs of that? HA!
0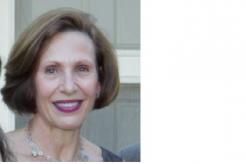 Do you remember my friend Lidia who has always been one of my biggest cheerleaders and she moved to Nc? Well guess who made it to the National CrossFit Games?  Yup – Ms Lidia – Queen Bee herself. I am beyond proud of her — WTG Lidia!
I have the most amazing people in my life — inspiring and caring – -and many of them are in my life directly related to me pursing a fit and healthy path.  Think about that as a great incentive to head down that path yourself!
Today's workout was called Death by Pull Ups. Just the name alone says so much, right?  Some days I think to myself while I am in the midst of the WOD — not only do I get up for this torture daily, I pay for it! 🙂 HA! It's awesome.
Warmup
800m run
2x
10 Air Squats
10 OHS
10 Pass thrus
Skill
Handstands
One Arm Handstands
Lots and Lots of practicing handstands!
Kip Swing
WOD
Death by Pull Ups
With a continuously running clock do one pull-up the first minute, two pull-ups the second minute, three pull-ups the third minute… continuing as long as you are able.
Total: 4, then did blue band to 11
For me that was not too long which was frustrating. I am still working on finding my kip. I can do the swing no problem, its the transition afterwards that messes me up. In my head I know what I need to do – I just gotta keep practicing. Practice Makes Better! It was not one of my best days. Sometimes you need some challenging days to make the good days that much better.
And in keeping with the true spirit of livin' fit and sore — I have been struggling keeping Paleo. Gluten is not a problem anymore. I'm off of that stuff no issues. It's more the sugar/sweet stuff and have noticed the reasoning I am doing in my head when I choose to eat it. And I know many people out there will read this and say, oh please. But eating crap really does affect everything you do day to day and that's how the weight creeps back on. I don't have the type of metabolism that can adjust to it, so it goes right to my mid section and that's not ok – i bought a bikini this year and I am going to wear it. So if it goes right to my mid section, all of those people at the pool are not going to appreciate what they see. So it's really for all of you in Ashburn VA that I need to stay focused. Sometimes, me owning up to it here helps me regain control — Accountability really does work.
0
It's cold here in NoVA and we may see some snow tomorrow! One of the things I try to do is stop and appreciate what's around me on a regular basis. When I lived in Tucson AZ in the 90s, I remember how beautiful their sunsets and sunrises are – like something out of a painting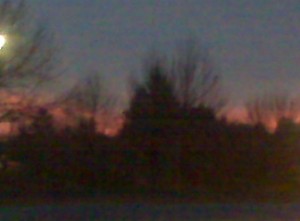 .  So, when I drive home from boot camp in the morning and the sunrise is a sight to see – it totally reminds me of Tucson.  I wish this picture really showed how pretty the colors were this morning but it gives you an idea.
It was good to see the group this morning – raring to go, joking and laughing as we realized we didn't have to weigh in because the scale's battery was dead! Monday is looking up already!
I tweaked my lower back a bit from something we did last week although it's not super bad. It hurts just enough for me to notice it.  We worked on pull ups again today – had to do 5 rounds of 20 assisted pull ups. I am getting so much better at them, now I just have to work on the KIP so nothing can stop me.
I was talking to one of the trainers at Crossfit Impavidus on Saturday and she said one of the great things about Crossfit and HIIT is that you will meet all kinds of fit people but the thing is each one can be good at something different. So one may be a runner who can do endurance work forever and in the same class you meet someone with unbelievable upper body strength, who may have to work hard on any endurance work but can lift like no one's business. Most people have a propensity towards something — I have very broad shoulders and upper body/shoulder work tends to be a bit easier for me than others but running or constant cardio — that's torture in my book.
How about you? What is one exercise/station that you tend to excel at where others in your workout group struggle with?