Posts tagged
race
0
Great day for a race don't you think? Well — to be honest, it was a bit colder than I would have liked but the race is for a great cause, so I can put up with it.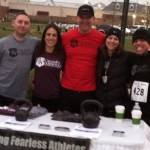 The race started at 730A — and I got there around 630 to help the CrossFit Impavidus team set up their sponsorship table.  Then Jason, James and I geared up for the 5K. It was an odd race — people were a bit leisurely than a lot of races I have done before.  So it took me almost 2m to cross the start line and then a bit more time to get past the leisure walkers. Again, there is room for everyone in the race but there is race etiquette to allow the faster runners room to get going. It's one of the things that I lose patience with during these races. All I ask is that you be aware that there are other people around you. Don't stop to wait for your friend, if you have a stroller, dog, small kids — move to the right and stay more in the back of the race, don't have the expectation that if you are running with a partner, that you can stick together all the time. People need to get through — it's a race!
The course was pretty good – some inclines, some flat, some declines. And I think I did ok. Results:  27:57 9:00
The only thing that was odd today, was it took me literally hours and a nap to get rid of the chills after the race. I could not get warm, no matter what I did.  When I got home, we went out to some garage sales in the area and some other people who attended the race, remarked about the same thing! So, it wasn't just me!
Today, in my Ashburn community, they had a huge garage sale to help raise money for a young man who was brutally assaulted – Declutter for Divineys. Ryan Diviney was left in a coma following a senseless beating on November 9, 2009 while a college student. So all the monies raised would go to help pay for his care. It's so great to see a community ban together to help someone else in need.