Posts tagged
race
1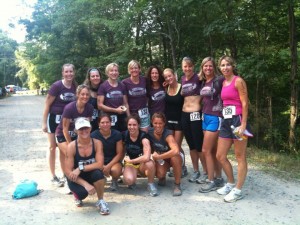 I am still fighting off this cold and combine that with how sore my body is from yesterday's race = skipped my workout this AM.  I was planning on going as usual but when the alarm went off, I moved a little bit and realized that sleep was what I needed.
I am launching a big project this weekend for work – all the craziness at work is for this project so, I need to be sharp and feeling well.
Yesterday's race was the hardest physical challenge I have ever done – It was in the woods, on a trail which is something I have never done and boy is it different than running on a paved path. The course was:
1 mile holding a 10lb weight (Men held 20lb)
drop the weight and run uphill to the next station which was approx another mile
50 burpees
continue the run about 2 miles
30 tree jumps (box jumps but with a large tree)
run another 1m or so, 30 pushups
pick up the 10lb weight and run to the finish which was approx 1mile.
There were lots of parts that were uphill and you had to be alert bc of the uneven path – there are tree knots in the ground, rocks, you name it.  Also, going uphill on the trails winded me and at one point, I stopped and took a hit off my inhaler because I couldn't catch my breath. But I carried on —
And to top it off – a few of us ran right into a swarm of bees! I got stung 2x and it was scary.  There was a guy who got stung 18 times on the back and the lady in front of me got stung in her head quite a few times.  Afterwards she was going to give up and I said to her – we didn't come all this way to give up so let's refocus and keep moving. We stayed pretty close to one another for the rest of the race, and I pushed her on — telling her to keep moving etc.  She came up to me post race to thank me.  Sometimes thats what you need to reach the finish line!
Post race – I got dehydrated. It was so hot and I was drenched with sweat. I finished and started to feel the effects – dizzy, chills, nausea. I went to sit down and the nice folks running the race watched me and one guy went and got some electrolyte pills and tums for me to take. It took me a whle of drinking a lot of water and those pills – but I did eventually start feeling better. I do have to say though that for the rest of the day , I was wiped out and I am sure it's part of the reason I don't feel so hot this morning either.
Next race, I am going to be sure to hydrate really well days before and also go get some of those electrolyte pills.  I am not sure how I felt about that race – it was so hot but I feel really proud of myself. I finished and I was far from last which was my one goal – to not be last.