Posts tagged
races
0
Today was a beautiful spring like day in Northern Virginia! Man — I can taste spring and can't wait. It is my rest day and I am forcing myself to take it easy –I keep hearing about over training and burn out. I love it so much and am so excited to try new things and practice the new stuff I have learned that it's hard for me to keep away.
This is the time of the year when info about local races is starting to hit. It seems to me this year that there are more than ever — or maybe I am just on too many email lists. Here are a few to note in the local No VA/DC area:
Brambleton  5k/10k April 9, 2011
http://www.brambletonribbonrun.com/
AOL Sunday, May 15, 2011 @ 8:30 AM.
http://www.active.com/running/dulles-va/aol-2nd-annual-spring-into-summer-5k-and-fun-run-2011

Ashburn Village 10K, 5K and 1 Mile Fun Run. Sunday, May 22, 2011
http://www.active.com/running/ashburn-va/ashburn-village-10k-5k-and-1-mile-fun-run-2011
North Face Endurance Challenge  June 4-5, 2011
http://www2.thenorthface.com/endurancechallenge/races/2011/dc/index.html
Spartan Race June 18 2011
http://www.spartanrace.com/
RARE CrossFit 5 Mile Trail Run (RCX5TR) II
Website
Sunday, July 17, 2011 9:00 AM
Virginia Outdoor Center
Fredericksburg, VA
0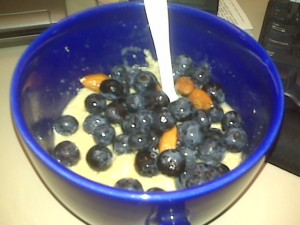 I am enjoying this wonderful bowl of oatmeal with fresh blueberries and 4 almonds as I write this post. It's still a bit chilly this morning even though the temps are supposed to get into the 70s today. Nothing like warm oatmeal and lemon tea to keep me warm.
There are some races that are coming up that I wanted to highlight that can give you a great way to get some exercise in AND give back at the same time. Those are my favorite kind of races…
Loudoun County Fairgrounds in Leesburg, VA
Sunday, April 18, 2010
8:30 AM – Rain or Shine
This race benefits a great local cause: LAWS,the Loudoun Abused Women's Shelter, provides temporary emergency shelter, food and emotional support to women and their children who are escaping domestic violence and abuse. If you don't run, you can always walk the 5k course.
Another great cause to support:
Alzheimer's Association, National Capital Area Chapter
We're on the MOVE to end Alzheimer's.
Join us at Tour de Canal, Memory Walk, or the Marine Corp Marathon.
Getting involved is fun and easy!   Join the fight against Alzheimer's: Sign up today to Ride, Walk or Run!
I have quite a few other runs listed that benefit some great causes – like the Ashburn Village Firefighters and Cancer under my Activities in Northern VA section.