Posts tagged
recipe
2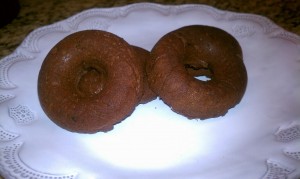 This recipe was shared by my friend Lori. She left off the dark chocolate icing. They look delicious don't they?
Chocolate Coconut Doughnuts
10 medjool dates, pitted
1 tablespoon vanilla extract
6 eggs
½ cup coconut flour
½ teaspoon ground cinnamon
¼ teaspoon salt
¼ teaspoon baking soda
1/3 cup cacao powder
½ cup coconut oil, melted
Dark Chocolate, melted (optional)
Instructions:
Preheat oven to 350 degrees. Generously grease a doughnut pan with coconut oil.
Place the pitted dates with 1 tablespoon of water in a heat resistant bowl and microwave on high for 30 seconds. Remove and add an additional tablespoon of water and mash the dates into a paste.
In the bowl of a food processor add date paste, vanilla extract, and eggs. Process mixture to combine. Add coconut flour, cinnamon, salt, baking soda, cacao powder, and melted coconut oil to the bowl of the food processor and mix until all ingredients are well incorporated. Stop to scrape down sides of bowl.
Fill the doughnut pan circles about 2-3 of the way full with batter. Bake for 15 to 20 minutes or until a toothpick inserted comes out clean. Remove from oven and cool on a wire rack.
Carefully remove doughnuts from the pan and continue to cool.
If topping them with dark chocolate, place chocolate in a double broiler or microwave safe bowl and heat until melted. Carefully place the top of the doughnut face down in the chocolate to evenly coat the top. Lift and turn over carefully and place the doughnut chocolate side up on a wire rack or piece of waxed paper to dry. If you would like you can also add dark chocolate shavings to the tops of the doughnuts.