Posts tagged
relay
0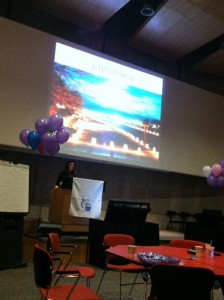 It was another proud moment yesterday watching Hannah up on the stage sharing our family's story. She worked hard to improve her presentation and it really showed. Remember, she's only 9!
It was a touching evening overall –the videos and the stories really touched my heart. I can relate to much of it and it's comforting to hear from others going through the same thing. It's sad that we all are a 'family' because we have had to deal with some scary challenges in our lives, but it is what it is and you come together to help one another the best you can. This year they are also going to honor caregivers.
As a caregiver of a cancer fighter myself — I know it's a really hard job in every way. So honoring those that care so much is so worthwhile!
The American Cancer Society Relay for Life sounds like a very fun event —
Overnight relay-style event
Teams of people camp out around a track
Members of each team take turns walking around the track for the duration of the event
Food, games and activities provide entertainment and fundraising opportunities
Family-friendly environment for the entire community
Because it's a Relay, you're not required to be there the entire time…but it's so fun, you'll probably find it hard to leave!
Now – we all have charities we support, so when looking into one –make sure that it meets your own goals and also look into how they spend their money. I am often dismayed to find out how Non-profits use the money we all donate. Be a smart with your donations and make sure they are doing what they said they were going to!
I like events that give people the opportunity to celebrate the lives of people who have battled cancer, remember loved ones lost, and fight back against a disease.