Posts tagged
review
4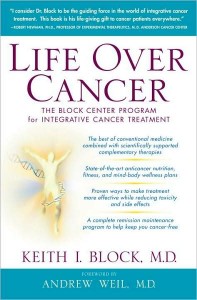 After our battle with colon cancer, I have become increasingly more aware and more sensitive to cancer related research and advice. I was recently sent this book directly from the publisher to read  and review.  I've just started to read it and will do a complete review when I am through.  But, so far, I like what Dr. Block has to say.  For my regular followers, you know I talk a lot about nutrition and being aware of the foods you eat. And how the foods you eat can make the difference in getting cancer and how your body reacts and fights it.  Here is a informative excerpt from the book Life Over Cancer that speaks to just that.
How Diet Affects Cancer
By Keith I. Block, M.D.,
Author of Life Over Cancer: The Block Center Program for Integrative Cancer Treatment

Diet affects cancer both directly and indirectly. Nutrients directly impact the mechanisms by which cancer cells grow and spread. They indirectly help control the cancer by changing the surrounding biochemical conditions that either encourage or discourage the progression of malignant disease. The bottom line is that what you eat can spell the difference between conquering your disease and having it rage out of control.

Here are some examples of findings from recent studies that support the importance of diet in fighting cancer:

Despite this overwhelming evidence for the benefits of a healthy diet when you are fighting cancer, that is not what mainstream medicine recommends. Yes, when it comes to cancer prevention, the American Cancer Society recommends a diet that is heavy on fruits, vegetables, whole grains, and low-fat proteins while restricting unhealthy fats, refined carbs, and fatty red meats. So far, so good. Yet the standard advice for patients with cancer — that is, those for whom prevention didn't work — is "all you can eat."17 Cancer patients are told to get all the calories they can, from butter, margarine, high-fat dairy products, mayonnaise, eggs, meat, hard and soft cheese, ice cream, and peanut butter. The rationale is that a fat- and calorie-packed diet prevents or combats cachexia, the "starvation response" seen in cancer patients. It does not. But this response is hardly universal; only some patients become cachectic, and only at certain points in their treatment. The reality is that there are far more patients for whom "all you can eat" is exactly the wrong prescription: it makes them fill their plates with animal protein, saturated fats, unhealthful omega-6 fats, and refined carbohydrates, all of which have tumor-promoting properties.18 In fact, a 2007 study reported in the Journal of the American Medical Association found that stage III colon cancer patients who ate the least meat, fat, refined grains, and desserts had half the mortality risk of those who ate the most of these foods.19

I don't want to pick on mainstream cancer groups — in my five years as vice president of the uptown Chicago chapter of the American Cancer Society (ACS), I saw firsthand the good intentions of everyone involved. Nonetheless, the disconnect between the ACS's cancer-prevention dietary advice and its cancer-fighting dietary advice is hard to justify. Even laypeople can see that. A number of my patients have said to me, "My doctor used to advise that I should eat fruits and vegetables and avoid too much meat and fat so I wouldn't get cancer. Now that I got a diagnosis of cancer, I'm supposed to eat cheesecake, milk shakes, and cream sauce. That doesn't make sense." They're right: it strains credulity to think that the very foods you are told to minimize in order to reduce your risk of developing cancer should be dietary staples once you have cancer. The cheesecake-and-cream-sauce advice also ignores the growing scientific evidence of the tumor-promoting potential of the standard American diet. To a great extent, the foods recommended for cancer prevention are also the foods that seem to suppress cancer after it's diagnosed. In most cases it is reasonable to use prevention studies as a guide for how patients should eat, especially in cancers where healthy diets reduce risk.
For those of you that are beginning or in the midst of your cancer battle, the Life Over Cancer website also includes updated resources to support the Life Over Cancer program.