Posts tagged
run amuck
2
So my post recapping Run Amuck garnered a few comments by some annoyed readers so I thought I would clarify what I was trying to say about etiquette rules of a Race: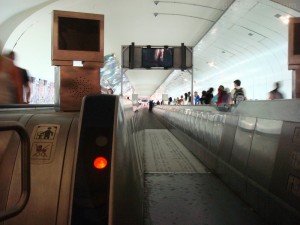 I am a huge proponent of fitness activities for any level so I loved the fact that the race had serious and casual racers – kids and adults! That's awesome and I think there is room for all types and levels of racers — when I posted those thoughts I didn't mean to come across as being a run snob. I guess what I meant to say but did it in a long winded way was — step to the side when other runners are behind you looking to advance.  If you think about it the same rules apply in airports when you are on the escalator or moving walkways, if you are on a narrow walking trail  —I found the following in a travel etiquette blog;
PLEASE don't stand in the middle of the moving walkway. Please allow others who are in a hurry and/or about to miss a connecting flight to walk by you. If the moving walkway is narrow, position yourself sideways to let others by. If you decide to stroll on the moving walkway, please stroll on the "standing" side and let the fast walkers by. If you're traveling with a friend, spouse, or significant other please stand single file. If you're traveling with a child, have the child stand in front of you.
There are those that are there for fun and those that are there for the challenge and there should be room for both!  And all registered runners in a race need to be aware and thoughtful of others around them. I am all about the fun of it — I did this race for the mud and fun too but also did it as a part of challenging myself. My friend who did it last year said it was modified this year to make it easier – so I signed up thinking it was going to be geared towards the more experienced runner.  I am entitled to my opinion and it was not given to take away from anyone who ran the race — good for everyone — just if you are not going to take the "race" part of Run Amuck seriously, then step to the side.