Posts tagged
running
0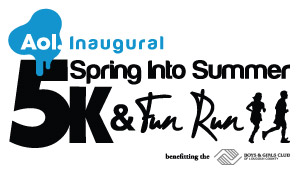 aol. is very near and dear to my heart. They are starting a 5k Spring Into Summer 5k and fun run on Sunday, May 16th.
The Inaugural AOL Spring into Summer 5k and Fun Run will be held on May 16, 2010 at AOL's Dulles campus in commemoration of AOL's 25th Anniversary. Proceeds from the event will go to the Boys and Girls Clubs of Loudoun County, whose programs and services promote and enhance children's development by instilling a sense of competence, usefulness, belonging and influence.
It's also yet another opportunity to get out there with your family to encourage healthy and fit living!
See you there!
0
I read about this new series of races called Zoom from Mel's blog – The Clothes Make the Girl and it sounds really interesting.
Zooma Women's Race Series is an exciting new concept in women's running that celebrates the power and beauty of all women. From their website:
Purpose is to promote women's and girls' health and fitness by encouraging them to participate in a challenging and fun running event

Pampering amenities and exciting entertainment with a "girls' weekend" atmosphere

Inaugural event held in Annapolis, MD on June 1, 2008 attracted over 1,600 runners

ZOOMA welcomes both men and women to participate in all ZOOMA events.

2010 events will be held in Austin, TX, Annapolis, MD, Colorado Springs, CO, and Atlanta, GA
Sounds like a great concept to encourage overall fitness and a healthy lifestyle that is personalized to women. I have found for me, personalization is the key to keeping my overall commitments. Make it fun and meaningful to the audience, it's more likely to stick.  There is no one way to exercise and/or lead a fit life for everyone and we all have different needs or accommodations that we need to take into account. So if you are near to one of these, check it out!!
0
I went to Gold's Gym this am. It was crowded but I like the energy of going to the gym. Like minded people all putting their bodies through what some would call torture but knowing that the payoff is worth it!
Ran on the treadmill 3.5mi
Push press 25lb db
OH squats 55lbs
back squats 55lbs
bench jumps 50
bicep curls 20lb db
40 BOSU pushups
6in flutters
Stairmill for 10 mins
I love to people watch at the gym. I see a lot of people reading magazines while on the treadmill or other cardio machine. I always think to myself if they are able to read, they really aren't pushing themselves as hard as they need to. That's just my opinion, but if you are getting to the gym – which is half the battle – you might as well push yourself as hard as you can, that's the point right?
Anyone doing the run in Brambleton in a few weeks? I am a bit nervous – it will be the first run of the season for me and although I have been running on a treadmill – it' definitely not the same as running outside. I have asthma so outside influences like cold air, allergens, humidity play a number on my breathing — but the more I head outside to run, the better it is for me – so while I am nervous, I'm also itchin to get outside and run and run and run…