Posts tagged
saturday
0
I have had a really good day — started it off with a great workout at CrossFit Impavidus. It was a hard one for sure, but it was the kind of workout that when you were done — you were super happy, super wiped out, but then on a super endorphin high. I also love that because the workouts are different every day, the coaches can take advantage of the great unusual weather — so we got to run outside. My other coach stuck too the routine no matter what, even during warm up. I like that element of surprise and spontaneity.
Warmupx2
Sampson Stretch
10 Pass Thrus
10 Butterfly Sit Ups
10 Push Ups
10 Air Squats
Skill
OH Squat
WOD
6 Rounds
200m Run
25 Lateral Burpees
time: 20:09
And when the workout was done, we did a few cool down stretches and we were done.
But, what i love about CFI and Saturdays is a bunch of us hang around helping one another with skills. Some of the coaches stay and help and then the students each add in. Today, I worked on the butterfly kip and by the end of the 10 mins, I had it! I definitely need to practice more — but I got the general rhythm down.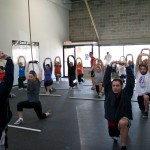 People learn differently and need a few different suggestions. I am very cerebral and need to see it over and over again and then deconstruct it, identify where I am messing up, see it again, try it again — until I get it. The coaches are ok with that — each one approaches training different and offers their take — and after trying each one, one of them does get into my head and voila!
Another great day of CrossFit — I wish this place had opened a long time ago. I feel so empowered and so reinspired — even taking rests days is becoming hard for me — but I take em!