Posts tagged
scope
0
Sunday was the 10th Annual Scope it Out 5K.  It was my fifth year running to celebrate my husband being colon cancer free! Seems so long ago now that he was recovering from surgery and chemo. Every year, I run this race as a reminder of how far we have come from those days and to continue to do my part spreading the word about how important it is for anyone with symptoms or at risk for colon cancer get screened. Remember: the treatment for colon cancer is a lot worse than any colonoscopy!!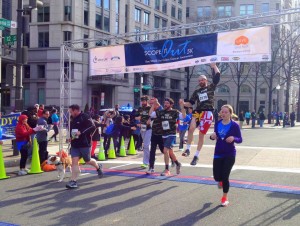 Both my kiddos ran this year's race too! Last year's 2014 Scope it Out 5K, HB joined us and this year Nate Dogg committed and rocked it!  I could not have been more proud of both of them! Apparently,  Nate loves to talk while he runs and expects a two way conversation, so Scotty had the pleasure of counting cop cars, crowds of people and anything else Nate Dogg wanted to mention during the 3+ miles. Good times!
I still regularly visit blogs created by others battling colon cancer. When I got back from the race, I decided to visit a blog by a young women in Arizona:  Michelle Whitehead Hastings. She had not been updating regularly because the cancer came back and she was undergoing some painful treatments. I wondered how she was doing and was shocked to learn she passed away late last month.  Michelle was a women, wife, mother, daughter – a bright shining person, who tried to give back as she navigated her own treatment. I took a moment last night to say a prayer for her and her family. And although I didn't know the news at the time – I ran the race in her honor. RIP Michelle.
Race Results
I was pleasantly surprised to find out that my time was better this year than 2014 and 2013! Keep in mind that I am not a runner. I had not run since this fall and even then it was no more than sprints. While there is nothing amazing about my pace in the general sense, I am quite pleased with it.  And I came in the top 17% overall. Not too shabby!
2015: 9:36
2014: 10:13
2013: 9:55
2012: 9:03
2011: 9:29

Read This
2015 Scope it Out 5K Event Photos