Posts tagged
steves
2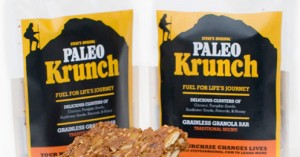 Last weekend, I tried a Paleo Krunch Bar from my friend Jason — and that was all I needed — it was Delish! Seriously, folks.
A delicious blend of coconut, pumpkin seeds, sunflower seeds, almonds and honey, PaleoKrunch fits into your bag and can answer any snack attack. Perfect for people following Zone® or Paleo®
I went home and ordered a batch of them along with their Paleo Krunch cereal. I really miss cereal now that I am Paleo, but this cereal paired with coconut milk — perfect substitute. It's like eating granola which is close enough for me.
In addition to being delicious, Steve's Original gives back to the community in a really meaningful way.
15% of proceeds from PaleoKits, PaleoKrunch, and other Steve's Original products go to the Steve's Club National Program to help bring fitness, nutrition, and personal development to youth across the country – one kid at a time.
So while a bit on the pricey side – its good, high quality, paleo friendly food that not only meets nutritional needs, it also helps others. Steve's Original for the WIN!