Posts tagged
su2c
0
I love sharing information about working out and giving back. This weekend, in gyms across the country you can participate in: The 5th Annual 2015 Crush Cancer event to benefit Stand Up to Cancer! 

The 5th Annual 2015 Crush Cancer event to benefit Stand Up To Cancer's collaborative cancer research. This year, Crush Cancer will host one main event that will be held in Culver City, California, on Saturday, October 10. In addition, gyms from across the country and around the world will be hosting their own events—all with the goal of raising as much money as possible for Stand Up To Cancer.
THE GOAL: Raise awareness and fund accelerated cancer research while providing a motivating and challenging workout experience.
While this is not a CrossFit sanctioned event, it resembles a CrossFit WOD type of workout.
The Workout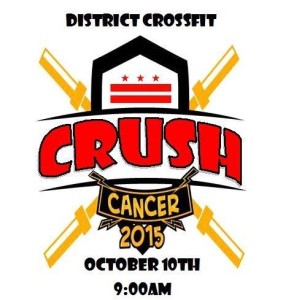 3 Rounds/1 Minute Each (Levels: Advanced, intermediate, Novice)
Power Cleans (95/65)
Kettlebell Swings
Burpees
Double Unders
Shoulder to Overhead (95/65)
Tally your reps each round and your score is the cumulative number of reps at the end of 3 rounds.
In the DC area, DC CrossFit is hosting an event, but if you can't find a local gym, hit up your local fitness spot and get it done and donate some money for this important cause. 
CRUSH CANCER EVENT DETAILS:
Timing/Locations
o Washington DC
o Saturday, October 10th 2015
o Location: 1525 Half Street SW, Washington DC 20001
o 9:00 am- 12:00 pm
3
2012 Stand Up To Cancer Benefit
I have written about Andy Whitfield, an amazing actor who lost his battle with cancer. The cast of Spartacus has been very active in keeping his memory alive but more importantly helping raise awareness and funds for cancer research.
Lucy Lawless, from Spartacus, filmed this video for the Stand Up 2 Cancer Benefit — and she also mentions Andy Whitfield's Documentary Be Here Now. 
Remember, Stand Up to Cancer event is on Sept  7 at 8p.
2
Stand Up To Cancer (SU2C) – September 7th at 8p ET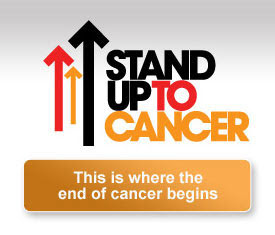 On September 7th, the entire group of A-list celebs are going to be together helping Stand Up to Cancer during the third SU2C primetime television fundraising special on Friday, Sept. 7 (8:00-9:00 PM ET /PT).
Gwyneth Paltrow, Julia Roberts, Matt Damon, Michael Douglas, Jessica Biel, Samuel L. Jackson, Jeremy Renner, Seth Rogen, Emma Stone, Taylor Swift, Coldplay, Alicia Keys, Tim McGraw and SU2C Co-Founder Katie Couric will all appear in the broadcast! Stars Taylor Swift,Coldplay, Alicia Keys and Tim McGraw will also be performing as a way to show their support.
Stand Up to Cancer continues to help build public support for groundbreaking translational research accelerating the delivery of new therapies to patients, getting them from the "bench to the bedside" as quickly as possible. SU2C brings together scientists from different disciplines across various institutions to collaborate.  Without collaboration, new cures can't be found!
Stand up to Cancer is a great organization, so please consider helping support their cause. Not because there are a bunch of celebs behind it, but because they do good work!
Stand Up to Cancer was founded in 2007 by a group of women, including Katie Couric, who had all been affected by cancer. Their hope was to enlist the media and entertainment industries in the fight against the disease.
Stand Up to Cancer will be broadcast live on Sept. 7 at 8 p.m. ET.
Event to Air Commercial-Free Simultaneously on ABC, CBS, FOX and NBC,
plus BIO, E!, ENCORE, HBO, HBO Latino, ION Television, LMN (Lifetime Movie Network), Logo, MLB Network, mun2, Palladia, SHOWTIME, Smithsonian Channel, STARZ, STYLE, TBS and VH1   8:00 PM ET AND PT / 7:00 PM CT
http://www.standup2cancer.org | facebook.com/su2c | Twitter: @SU2C |
Tune-in: http://youtu.be/7O_P_Fr4S1E