Posts tagged
support
1
CrossFit is about the Community

I have been a part of the CrossFit community for quite some time now and I want to share something about this community that bubbles me over with pride.  It's the spirit of the athletes. I'm not talking about their competitive spirit or the ready for anything approach. It's the deep down sort of stuff that makes people who they are — the ones you would call good eggs.
I have watched so many people come in to our gym – many of them would not be what you call ready for anything! And its not easy to make the decision to make changes in your life and then to choose this crazy and 'wild' style of fitness. It's so out there for some people — In theory, you could say it already has two strikes against it.  But yet they come in and for some, they just belong here and they find they love it.
We have had some new people come through the doors the past month or so – and they are starting from the beginning. It's not easy to use a plastic pipe instead of a barbell in a large group or see where fellow athletes are in their progress and think about how far you still have to go. You know what makes the difference? The community, the people who are there with you putting in the effort.
I have met the most amazing people since I started my fitness journey. This morning one of my fellow athletes and friend Leila told me a story about another friend of mine, Lani, that gave us both a huge feeling of pride and just sincere appreciation of who we get to hang out with.
Leave No Man Behind
Here's some back story and then what went down —
Rosa is a new athlete and she is determined to get in shape. She is just starting out and can't run the entire way with us during warmups or workouts — and that's totally ok. Everything in CrossFit is scalable for your own fitness level.  We all told Rosa, just show up and put in the work and you will see results. Trust in us and it will happen –no gimmicks, no tricks. Good old fashion hard work and commitment and focus – that's what it takes. Period.  Rosa has the best attitude and I am so happy I got to coach her very first CrossFit class and have gotten to talk to her more outside of class about the changes she is focused on.
Earlier this week, our workout was 400m, then a workout, and ending with 400m. We all were done and exhausted and Lani, without saying a word, went back out to the parking lot and ran with Rosa. Didn't say a word – just started running with her to get her through to the end.  Keep in mind that Lani had just done this grueling workout and we all just met Rosa. That's what makes the difference between success and failure for some people – being able to see you aren't alone in this and there is someone there to pick you up when you need it. And sometimes you don't even know that you need it but when it comes — holy crap, you are beyond thankful.
Although Lani is something special, you can find people who are supportive and live the can do attitude in almost every CrossFit gym.  I am referred to as the CrossFit Ambassador for a reason – I recognize how hard it can be to step into the doors and embrace a change. Everyone who does it deserves credit, recognition and a supportive, friendly place to get it done. That's my job at CrossFit Impavidus! To help change lives by grabbing their hands and introducing them to what change looks like.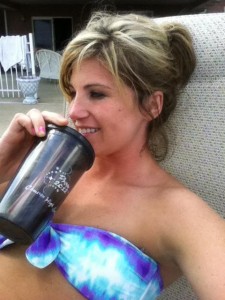 In the past year that I gotten to know Lani, there is nothing but pride and appreciation of what an amazing person she is at the young age of 25.  She has a work ethic that you don't find in most people, is one of the most insightful, sharpest and fun people I have met, and is genuine. I am such a big fan of hers — and to see how far she is come physically too. She used to joke after each 6A workout, that the Moms keep beating her. The Moms are a group of us that are obviously Moms but also around the same age. But we no longer are beating her. She is killing it, getting stronger and faster – and beating the Moms at almost every workout! Now that's what I like to see —  making huge progress and I couldn't be prouder of someone kicking my ass.
The people are what makes the difference at CrossFit. Hands down, we are in it together and will not let anyone fall. To quote Lani "we leave no man behind."