Posts tagged
taubes
1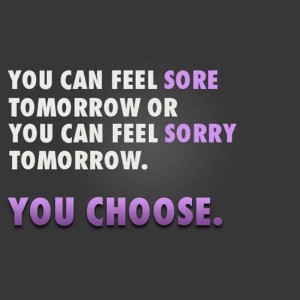 If you have read my blog and the many others out there that talk about Paleo eating –you know that Exercise is not really the key in getting you thin. It's really a very small part of getting you thinner — your diet is the key. We all have met people who work out all the time and they don't appear to have a handle on weight loss. It's the kind of thing that you stop and say hmm — and it makes you question what we all have been taught. But the truth is you cant out run a bad diet. You cant out-exercise, poor nutrition.
Here's a NYT article by Gary Taubes posted a few years ago. Read it, you will be glad you did!
Why most of us believe that exercise makes us thinner—and why we're wrong.
This article does not say to quit exercise — there are a ton of reasons to make sure you are fit and active.
This is not to say that there aren't excellent reasons to be physically active, as these reports invariably point out. We might just enjoy exercise. We may increase our overall fitness; we may live longer, perhaps by reducing our risk of heart disease or diabetes; we'll probably feel better about ourselves. (Of course, this may be purely a cultural phenomenon. It's hard to imagine that the French, for instance, would improve their self-esteem by spending more time at the gym.) But there's no reason to think that we will lose any significant amount of weight, and little reason to think we will prevent ourselves from gaining it.
Warmup
DROM
Drills
1 lap jog
Relays
Skill 
Press Series
WOD
1,1,1,1,1 Shoulder Press
3,3,3,3,3 Push Press
5,5,5,5,5 Push Jerk
I went up to 105 — but my shoulder tweak is still hurting so I went back down to 100#. Im stoked that I could clean it, let alone push jerk it! Whoo hoo!
0
Gary Taubes on "Why We Get Fat"
Yes, Yes, Yes.  Eating the crap foods creates cravings for more crap food — and you are living in a vicious cycle.  That's why I think eating a Paleo like diet is key. Cut out most carbs and eat whole, clean food —  not processed – you are good to go. Look into the science more and see what you think —
Taubes challenges the conventional wisdom that says if we just eat less and exercise more we will lose weight. He contends that carbohydrates – sweets, breads and fruit – and not fatty foods are to blame for our nation's rising obesity rate.

We're not fat because we're gluttons with no willpower who sit around watching too much TV, he says. Instead, we become couch potatoes because we are getting fat by eating too much pasta and rice, and too many cookies. That diet brings on a vicious cycle of craving more of the same carbohydrates that sap our energy and pack on the pounds.

"It's the most important issue in medicine today," argues Taubes, a fellow at UC Berkeley's School of Public Health. Being fat increases our risk of heart disease and diabetes, he says, as well as cancer and Alzheimer's disease. Diets that require a steep drop in caloric consumption only allow us to drop pounds temporarily but are not a cure for obesity, he says.

…DeVane and Taubes agree that exercise alone is not the answer because people dramatically underestimate how much exercise is required to burn off pounds. And, Taubes says, exercise will just make you hungrier.