Posts tagged
tina k
0
One of my friends, Tina K. posted this on facebook today.
Today, let's not worry about the opinion of others. Let's not abandon ourselves to please other people. Let's not give our power away because we feel we need the approval of other people. Let's celebrate filling ourselves so that we may be of even greater service to the world. ~Mastin Kipp
0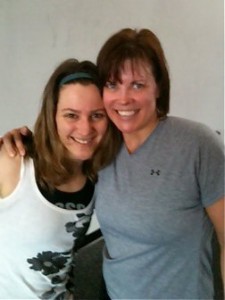 I love that CFI has a free class for anyone on Saturday mornings that wants to try CrossFit. There is no hard sell — because for most, once they try CrossFit -they are hooked. No Hard sell necessary.
My friend Tina tried it today. Her husband already joined and is a die hard CrossFitter. She did a great job! This pic was taken AFTER the workout –and we are still smiling.
Warmupx2
Sampson Stretch
Pass Thrus
OH Squats
Sit Ups
5 Pull Ups
5 Ring Dips
Workout
4 rounds for time
400m
20 wall ball squats/box jumps
30 push ups
40 situps
time: 23:19
cool down
sampson stretch
front/back scorpions
It was a great workout! The whole group had a lot of fun too if you can believe it! Another great workout!