Posts tagged
trip
0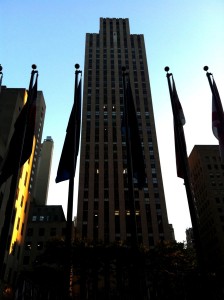 Nothing like deciding at 3p on a Fri to drop all your weekend plans, pack up the kids, pack the car, pick the kids up from camp and drive to New Jersey. Sometimes you have to just let all the clutter and stuff that needs to get done in your life go, and get away. We have been wanting to go to the beach and into NYC for a while and figured — why not. Why not be Fun Mommy/Fun Daddy and just take the kids on an unplanned adventure? Although it was a short trip, and we got home very late last night, it was totally worth it!
I love NYC — wish I had lived there for a bit when I was first out of college. How much fun I would have had –or would I? It sure seems like a dream city in so many ways. And then to go to the jersey shore — it was like I was a kid again.
But like dreams, they end — and we are back to our work week, starting with my Monday CrossFit workout. Which by the way, I need because as hard as it is to admit  — I fell completely off the wagon and it broke the past week or so. I am like an addict and can't just have one night of gluttony. I have to go all in — lucky me. But I am determined to re-focus and get back to living fit and healthy when it comes to eating — otherwise the hard work I have done won't pay off as much and I need my pay off!
Warmup
400m run
2x
10 whirly birds
10 hand stands
10 good mornings
10 pass throughs
Skill
Front Squat
Double Unders
WOD
3-3-3-3-3
95lb, 115, 125, 135, 145lb
1m AMRAP
Double Unders
total= 51
0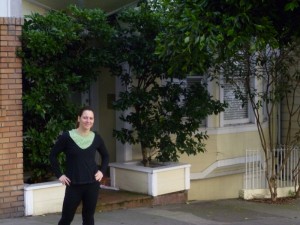 As promised – I went for a run/workout in San Francisco on my trip. I felt like I was eating my way through the trip so it was only fair on my body to do a bit of exercise. My brother and I headed out together on Sunday — and I am so happy I did. The scenery was absolutely gorgeous and I didn't bring a camera but had my brother take this shot right before we started in front of his apartment to document that I actually got my fitness in!
We ran up a few hills (imagine that in San Fran!) and ran down some stairs, through the marina and a park — then stopped at a workout station area where they had pull up bars, slanted boards to do sit ups, push ups — then we did some burpees, lunges, push ups. We also showed each other some new moves to add to our workout on occasion and then headed back to the apartment which included running some serious stairs! My asthma was no where to be found and the scenery made the entire workout so worth it. How can you not want to get out there and run with the beautiful bay surrounding you? The best thing to see — the Golden Gate Bridge in the distance.   My goal is whenever and wherever I travel – I will run the area. Carmel was beautiful, San Fran, super beautiful — I wonder what trip is next?
1
The family is headed to my old stomping grounds of North Jersey for the labor day weekend. The kids love going into NYC and I really want to hit up the jersey shore. It's so funny how you don't appreciate how close you live to all these great things when you are young. I lived 30 mins from NYC, 1 hr from Philly, 1 hr from the shore. I mean – come on – how great is that and I couldn't wait to move out of Jersey when I graduated High School.
I want to make sure we have a general plan for this weekend — so Thursday it's the shore, Friday – NYC. I want to find something out of the norm for the family in NYC though. We have been many times and always do the same thing — 5th Avenue walking, central park, Times Square, and once or twice — the Natural History Museum.  I am going to do some research on things to do with Kids in NYC. I was thinking about heading to the Bronx or Staten Island Zoo. I haven't been since I was a kid and I have a lot of memories of those trips. We could also go to South Street Seaport with the kids — I just have to figure out timing…
Decisions, Decisions!