Posts tagged
Trooper
0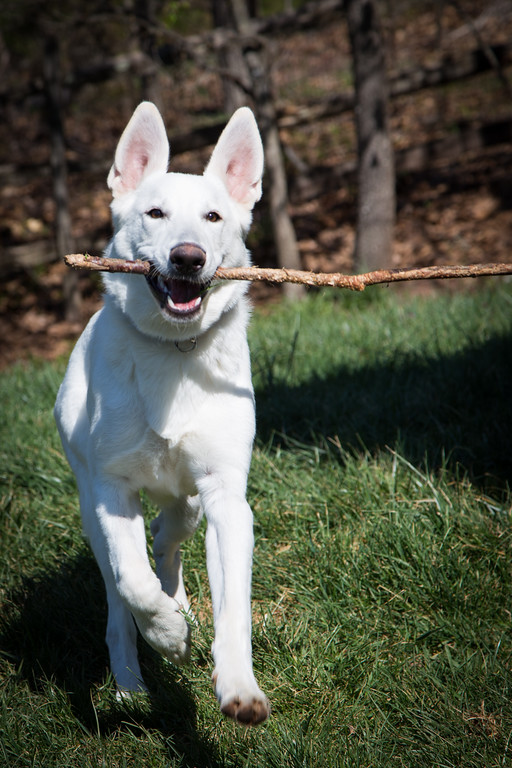 One of the greatest things that has happened to our family this past year is adopting our dog, Trooper, the white German Shepherd (IG: TroopertheWGSD). Although he is a ton of work – it's like having a toddler living in my house again – he has brought so much joy and fun into our family life. The big joke among Scotty and the kids is that every time I go out to run errands I bring Trooper a toy. HB likes to say "I'm obsessed with him".  She's right but who else is that happy to see me all the time? His eyes light up every time I get him a new treat or play toy. He doesn't complain about it being the wrong color or size. He appreciates it for what it is. And in my book that's a win/win.
Having Trooper has improved our health as well. The kids get outside more than ever, taking him for walks, to the park, or just in our backyard to throw the chuck it ball – over and over and over and over again.  That boy loves to play fetch.
Pup-peroni's new Filet Mignon & Bacon Flavors
I was recently sent Pup-peroni's new Filet Mignon & Bacon Flavors treats so Trooper could properly celebrate International Bacon Day–and what do you know? Trooper loves BACON too. These treats are made with Angus steak with bacon-y flavoring (that's what the box says anyway!) And Trooper loved them.
To share ways you and your pooch bond over Bacon, use #woofyeah or leave me a comment below!
And it doesn't need to be said but, even though I don't need any more reasons to love him, his love of Bacon makes him that more lovable!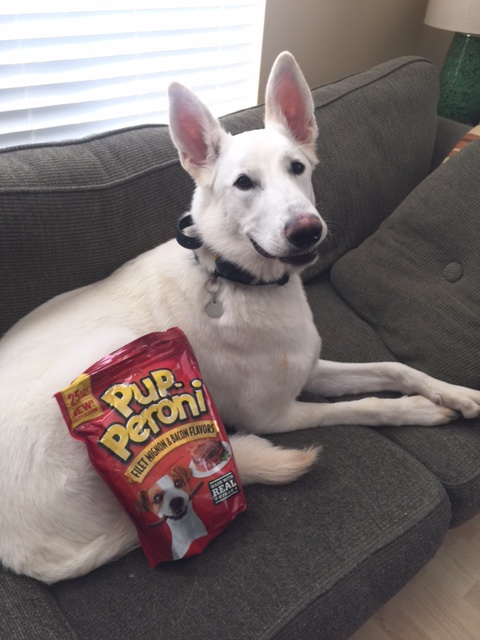 Please Note: Thanks to Pup-Peroni for sending me a bag of these treats for Trooper. They did ask me to include a link to their product but there was no expectation on their part to influence my review. My opinions here are my own.
2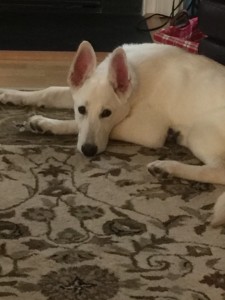 We decided to adopt a puppy. We have been thinking about it for a while – and the kids are at an age where they can help at least a little with him. So, without further ado – Meet StormTrooper aka Trooper. He's a 5 month old White German Shepherd and full of energy. He calms down nicely though and seems to be scared of everything around him which is a bit of a bummer. I am hoping it's the new surroundings and he needs time to warm up.  Almost everyone that has seen him, has shared that German Shepherds were their favorite dog growing up, and they make good family dogs. I'm going to enroll him in training in January which should help. He's super smart and already sits and fetches – and we are training him to sit and wait at feeding time.  We figured with the kids out of school for a few weeks, it would be a good time to get used to him being a part of the family. It will be interesting to see how he's going to be next week when we all go back to our regularly scheduled routine and he will be alone for a block of time during the day.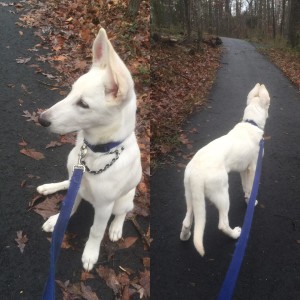 Post Holiday Reset
Let's talk about the holidays shall we? I have been out of control eating. I consciously know that I shouldn't be shoving 80 bazillion cookies in my body, but it doesn't seem to matter. The past few days I have been getting back on track though – becoming more mindful of what I am choosing and my plan is to start eating according to the Whole 30 approach in January.
The Whole30 program is a good option for those looking for a way to do a healthy reset or discover what food sensitivities you may have. For those interested in learning more about it, here are some great Whole30-related resources, compliments of Melissa Joulwan, author of the Well Fed book series, including 4 weeks of food plans, no recipe required meal ideas, motivational tips, and more.
One of the great things about doing the 30 day program is you can break your sugar habit if you follow the program religiously. It's not easy, but craving sugar is one of the biggest issues for most people. Once you break that, which makes the first 10 or so days of this program the most challenging, you will begin to feel completely amazing. Your skin, your hair will look healthier. You will sleep better, wake up feeling better. Food will taste better. The list of benefits goes on and on.
Mobility
In the coming year, I am going to spend more time working on my flexibility and mobility. I can feel the tightness in my shoulders and neck and have been having issues with my lower back. Nothing serious but I am smart enough to know it's only takes an off balance move or a quick jerk and I could be feeling more than tightness. I started rolling out my shoulders and back with a Lacrosse ball after my boxing sessions. I have been introducing some friends to the painful joy of myofascial release after my sessions to. It's amazing to me how many people don't realize how important and effective it can be. I know many people use a foam roller, but I have found that using a Lacrosse Ball gives you a deeper roll out which is what my tired, tight muscles need.
Be Inspired