Posts tagged
warmup
2
Today I was the coach for the Community Workout and it was so hot. I created a really good, challenging low skill WOD that even the hard core athletes seemed to like how bad it sucked.
I started off doing the Dutch Lowy warmup. Here's a video of all he does —

It's a really good comprehensive warmup and I think some of the small nuances of the moves really made a difference. For example, doing the cobra and making sure to look left/right/up really does make a difference. A Good Difference.
Then we did the WOD:
3 Rounds
1m each station
1m rest between rounds
hand release burpees
grasshoppers
squats
100m plate carry
ground to OH with plates
It was tough mainly because it was so hot out there — needless to say, there were a ton of sweaty folks at the end of it.
The box then had a Cookout/Potluck. I made the Sweet Potato Salad and it was delish!  I recommend it to anyone!
0
Where else but CrossFit can you use the word Snatch and not get in trouble? It's funny how many terms that are used in weightlifting that are traditionally seen as sexual or male-centric. I'm not even going to mention them here — we all know which ones I am talking about. What is it about male-dominated sports/fitness that dictates this? Don't even bother answering that — I already know.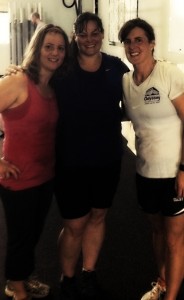 Today's workout was indeed the snatch.
Warmup
Burgener Warmup – which is basically progression into a muscle snatch
Skill
Snatch
Muscle Snatch
WOD
1-1-1-1-1-1-1
53-53-53-53-63-63-63#
2m Double Unders = 30
I spent a lot of time working on form with the snatch — getting under the bar because that's really where my form messes up. I can muscle up a lot of weight, until I get to a point where it's too heavy and it becomes clear that my form is off. So until I am comfortable with the actual technique, my weight won't be changing.